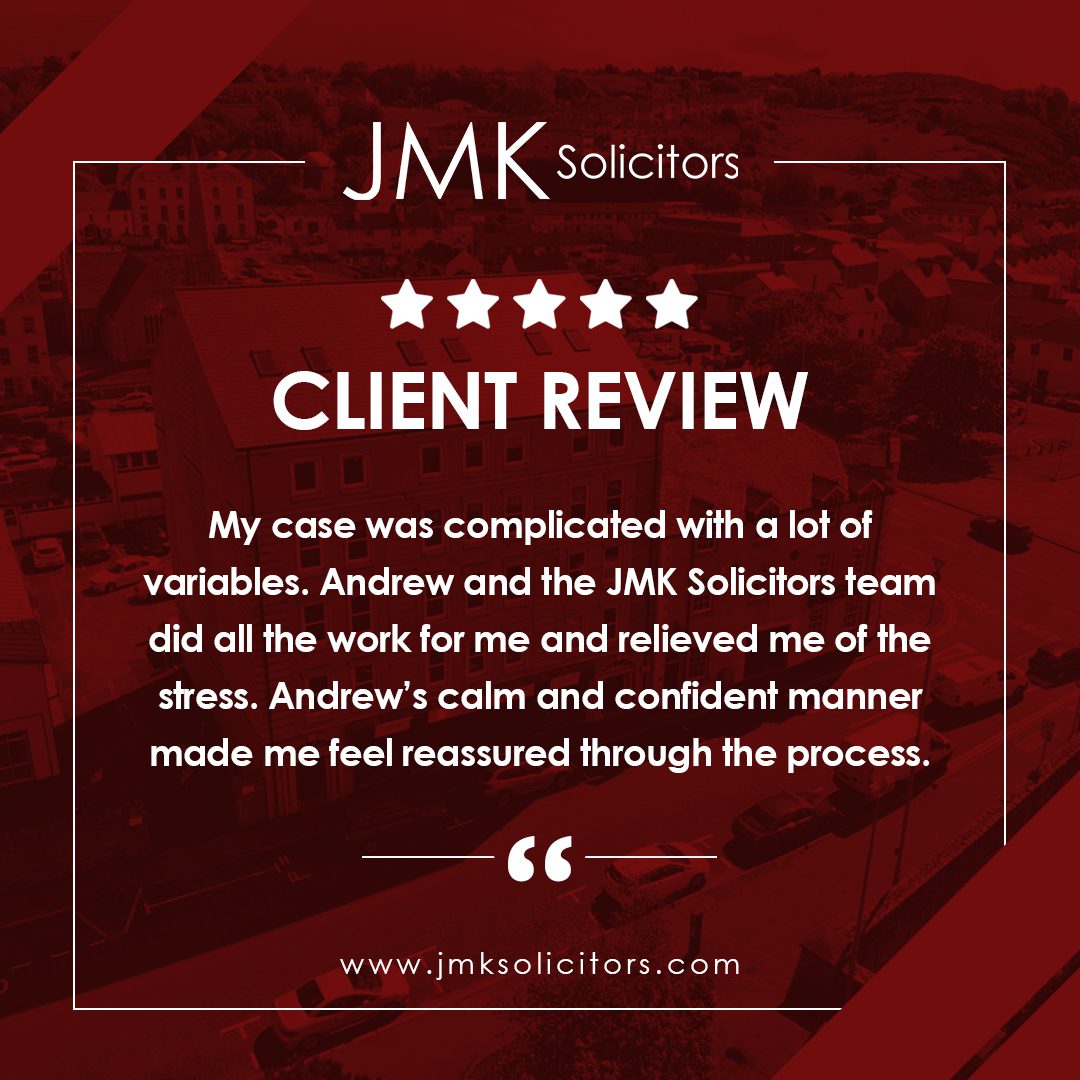 Hear from our satisfied client William McAleenon who speaks of his experience in using JMK Solicitors after being involved in a road traffic accident.
"In November 2019 I was unfortunately involved in a road traffic accident in Belfast, which caused a shoulder injury and damage to my car. This was a very traumatic incident and the injury caused ongoing issues with my productivity in the workplace. After the incident, I was confused about what to do or who to call. My brother-in-law recommended JMK Solicitors and from the moment I spoke with my solicitor, Andrew Moore I felt at ease, I knew he was the right person at the right company to guide me through the process.
My case was complicated with a lot of variables and was a cause of stress in my life, however, Andrew and the team at JMK Solicitors did all the work for me and relieved me of the stress. As time passed in the case,  Andrew kept in regular contact and ensured I was updated at all stages.
During the later stages of my case, as my court date approached, Andrew's assistance really stood out as he explained everything to me in a clear and concise manner. I was unsure about the court process and was delighted to secure a settlement outside of court thanks to Andrew.
I would recommend JMK Solicitors as Andrew's calm and confident manner made me feel reassured through the process and really made the best of a bad situation."
---
JMK Solicitors are Northern Ireland's Number 1 Personal Injury Specialists. With a team of over 100 people including a team of personal injury solicitors, we assist clients all over Northern Ireland. If you have suffered a personal injury, been in a road traffic accident, had an accident at work, or suffered a medical accident, contact our team for a free consultation.
Call us today on 028 9032 0222 or email us law@jmksolicitors.com