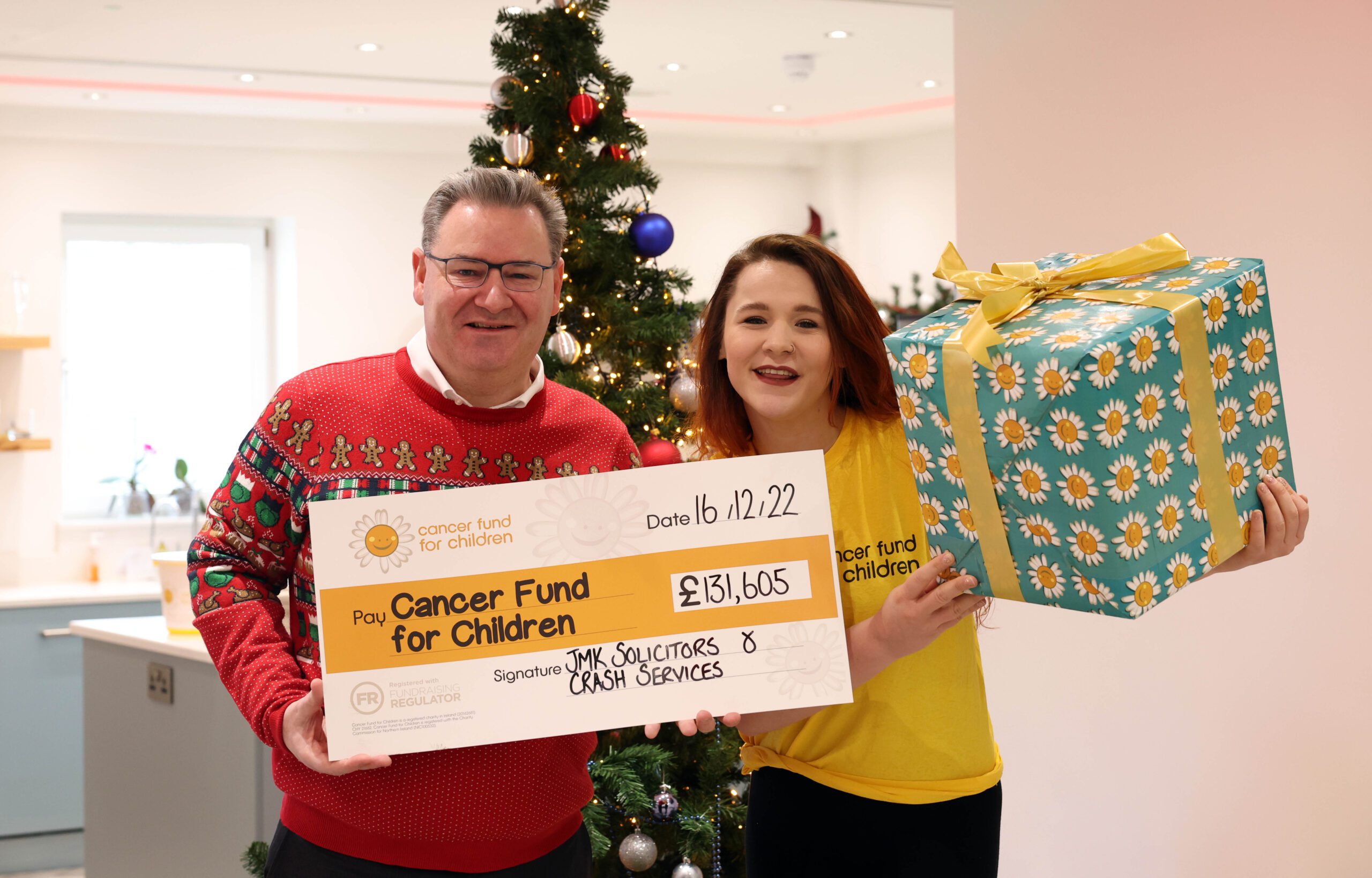 Staff at JMK Solicitors and CRASH Services have donated a total of £41,000 to their 2022 charity partner Cancer Fund for Children this December. This is the third and final year of the partnership with Cancer Fund for Children and over £131,000 has been raised in total over the 3 years. The firms thank the incredible fundraising efforts of their entire teams despite the challenges faced during the pandemic restrictions.
Cancer Fund for Children supports children and young people diagnosed with cancer or living with a parent with the disease. They offer support in the home, community, on the hospital ward, and at their residential centre, Daisy Lodge in Newcastle, with the aim that no family faces cancer alone.
Jonathan McKeown, Chairman of JMK Solicitors and CEO at CRASH Services said, "We are delighted to have been able to support Cancer Fund for Children over the past 3 years, which has been a difficult time for all charities. Our activities have not only allowed us to raise over £130,000 but also engaged and brought together our people during periods when many of them continued to work remotely. Our staff's enthusiasm, partnered with the great support given by Alex Murdock and the entire Cancer Fund for Children team, has allowed us to raise a total we feel will truly make a difference!"
This year we have continued to get creative with a variety of activities to raise funds. We have hosted fitness challenges, sweepstakes, taken part in the Belfast marathon and one of our team even cut their hair to raise awareness and funds for childhood cancer. We were also delighted to donate funds to the charity to support the purchase of Christmas gifts for 25 young people affected by Cancer.  Some of our braver team members even took part in a skydive earlier this year! Our kind-hearted staff also opted to join into a monthly salary sacrifice scheme where a regular amount is donated each month going directly to the charity."
Phil Alexander, CEO at Cancer Fund for Children commented, "Throughout 2022 the team at JMK Solicitors and CRASH Services have gone above and beyond once again for Cancer Fund for Children, raising an outstanding £41,000 in support of young people and their families coming to terms with a cancer diagnosis.  From sweepstakes to marathons, a skydive, and salary sacrifices, there has been so much for the team to get involved in this year.
This incredible total adds to the amounts raised in both 2021 and 2022 with an amazing £131,605 raised over the duration of the three-year partnership! These funds will go a long way in helping us be there for families when they need us most and ensure no child has to face cancer alone. To everyone at JMK and CRASH, thank you so much for your support over the past 3 years!"
If you are feeling inspired and think your organisation would be interested in raising vital funds to support local young people and families impacted by cancer, please don't hesitate to get in touch with Corporate Fundraiser, Jordana Stoney-Wilson at jordana@cancerfundforchildren.com or call 028 9080 5599.