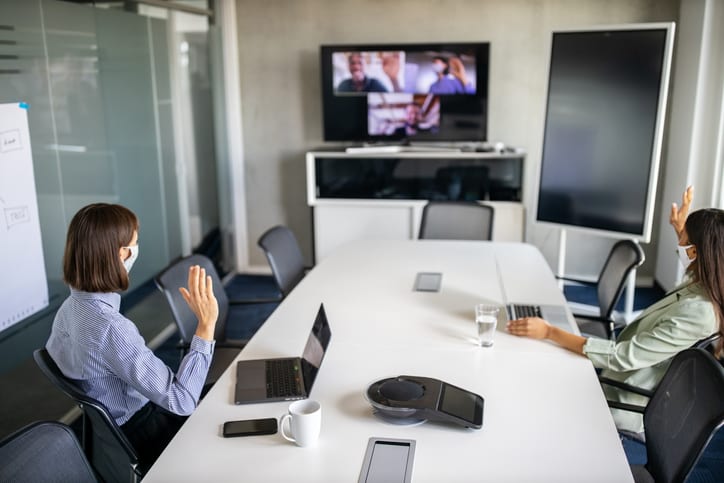 JMK Solicitors, Northern Ireland's number one personal injury practice, have been at the forefront of a change from physical court attendances to remote hearings during the Covid induced crisis.
In recent months virtual Courtrooms have been set up in both the legal firm's Newry and Belfast offices.
The facilities include a TV monitor, webcam and speakers, allowing clients a safe space to have their cases heard with the Judge sitting at any number of Courts around the country.
The move comes amid the Covid-19 pandemic and strict social distancing rules being enforced across nearly all industries.
Legal Advisor at JMK Solicitors, Bronach McNally, said, "The pandemic is challenging but it is also an exciting period for the evolution of new ways of working. It is vital for clients to feel safe and we're delighted that our offices can be repurposed for them to have their cases heard without delay.
At the heart of our core values is: 'We make people our priority' and this new way of conducting hearings has meant that cases can proceed safely and effectively."
Bronach says the law firm's various meeting rooms have been set up to cater for legal representatives, clients, and witnesses.
"This," she continues, "allows us all to be seen on camera at the same time, whilst also allowing for social distancing."
Explaining how a remote hearing works, Bronach continues, "In most cases, clients are invited to the office and will remain in a separate, isolated room until their case is ready to be heard."
She says in some instances a client remains at home until the Judge has done what is known as a "call over" where the Judge goes through all of the cases that are listed that day and at that stage they have a better indication of what time the case is going to be started.
Bronach explains that the team then contacts the client with a more specific time to attend the office.
This, Bronach says, "helps to minimise the contact with other colleagues and clients attending the office."
Each hearing room is equipped with a Bible, water, hand sanitiser, face masks, and anti-bacterial wipes.
Bronach says a Covid deep clean is carried out on the rooms after every use.
"The chairs and all surfaces are cleaned and disinfected before the next case is heard," she explains.
In the last month, Bronach says many cases have been heard remotely with great success and favourable results for our clients.
Bronach adds, "Covid has put a strain on most of our daily lives but at JMK Solicitors, looking after our clients is our number one priority. We hope and expect that this new way of working will continue long after the need for such intense cleaning is required.
We see remote hearings as a much more convenient process which will ensure easier access to justice for clients of JMK Solicitors."
JMK Solicitors are Northern Ireland's Number 1 Personal Injury Specialists. With a team of over 100 people including a team of personal injury solicitors, we assist clients all over Northern Ireland. If you have suffered a personal injury, been in a road traffic accident, had an accident at work, or suffered a medical accident, contact our team for a free consultation.
Call us today on 028 9032 0222 or email us law@jmksolicitors.com