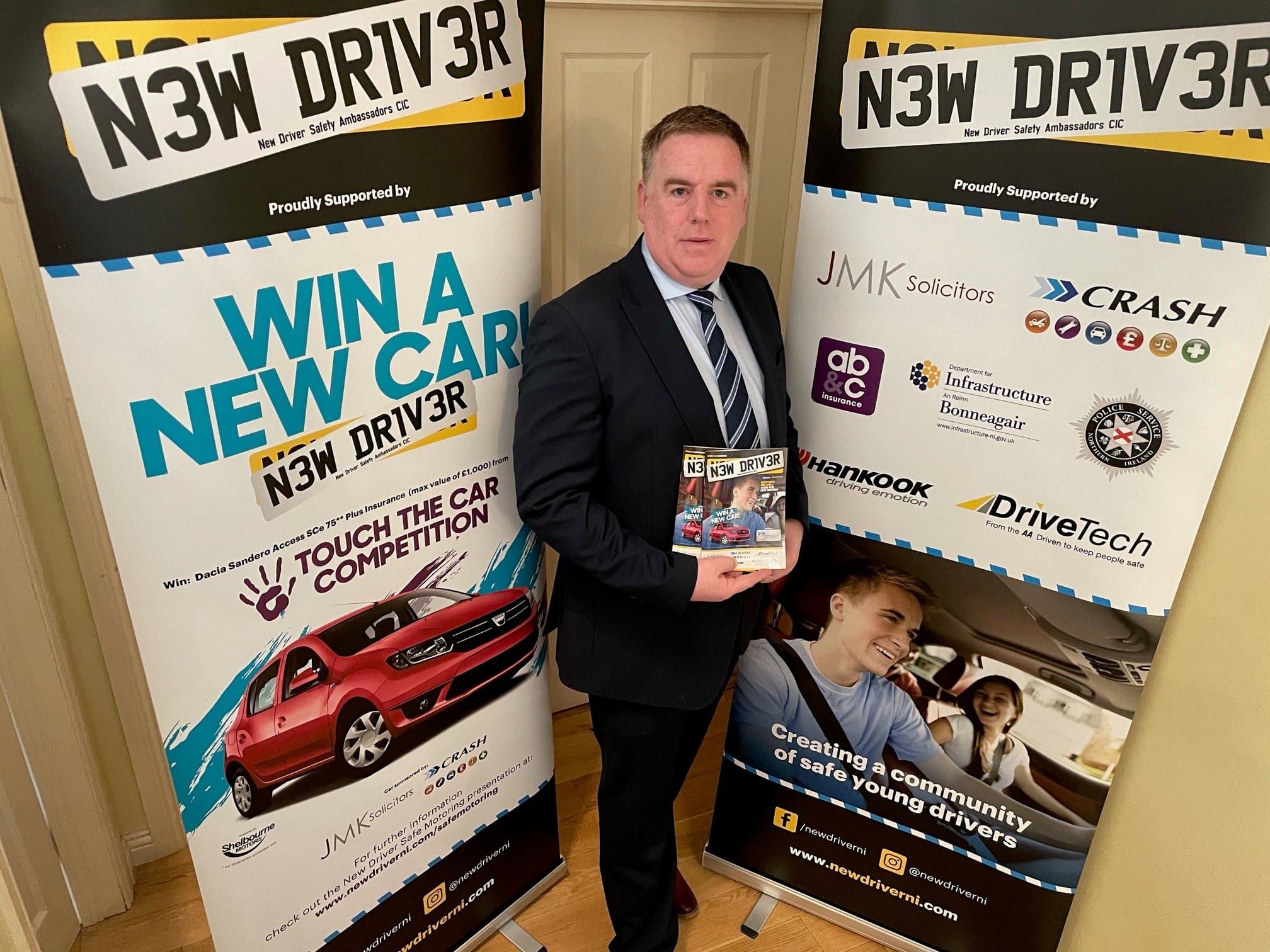 Pictured: Stephen Savage, Project Manager at New Driver Safety Ambassadors
JMK Solicitors are once again delighted to be a corporate partner of New Driver Safety Ambassadors. New Driver is a community interest company that aims to educate all new drivers and passengers on making good motoring decisions.
The company's representative visits sixth form year students in schools each year to deliver a safe-motoring presentation and offer advice to all new young drivers.
Stephen Savage, Project Manager at New Driver Safety Ambassadors commented "The programme has run for over six years now and is growing each year, however, as we are faced with Covid 19 restrictions we decided to move our safe-motoring presentation online. This makes it easily accessible to all schools and their pupils across Northern Ireland."
Each year students are given a New Driver magazine which is packed with useful information for anyone who is starting out on the road for the first time. Whether you are looking for tips on how to pass your test, buying your first car, getting insurance, or maintaining your car, the New Driver NI magazine has it all.
This year New Driver NI has made their magazine available online and has an enticing 'Touch The Car Competition' for all young people in education to enter. The prize is kindly sponsored by JMK Solicitors and CRASH Services, and one lucky participant will receive a new Dacia Sandero Access SCe 75* and a cash amount of up to £1000 towards insurance.
Students are also asked to sign the New Driver pledge which commits them to respect the speed limit, never using mobile devices while driving, never ever drive under the influence of drink or drugs, always wear a seat belt and be aware that driving when tired can kill!
Mr Savage commented "Too many young people are still losing their lives or being seriously injured on the roads across Northern Ireland.  We want to see these figures reduce every year.  We have set an ambitious target to get 5,000 pledges this year and we have made a good start."
Jonathan McKeown, Chairman at JMK Solicitors said "We are delighted to be able to support New Driver Safety Ambassadors.  As a legal firm specialising in personal injury cases, many of which are a result of road traffic accidents, we feel there is a real importance to educating young people on the importance of safe motoring as they progress into driving for the first time. We also feel the advice and support that New Driver provides is excellent in nurturing their journey from getting started, right through to tips and advice for their vehicles, scenarios, and weather conditions."
The programme is completely free for schools as funding is provided by DFI Road Safety Grant Scheme, Mid and East Antrim PCSP, and by corporate sponsors including, CRASH Services, Hankook Tyres, AB&C Insurance, DriveTech UK, and JMK Solicitors.  We have also been assisted by a further four Policing and Community Safety partnerships.
For more information and access to the New Driver NI magazine see www.newdriverni.com.
JMK Solicitors are Northern Ireland's Number 1 Personal Injury Specialists. With a team of over 100 people including a team of personal injury solicitors, we assist clients all over Northern Ireland. If you have suffered a personal injury, been in a road traffic accident, had an accident at work, or suffered a medical accident, contact our team for a free consultation.
Call us today on 028 9032 0222 or email us law@jmksolicitors.com