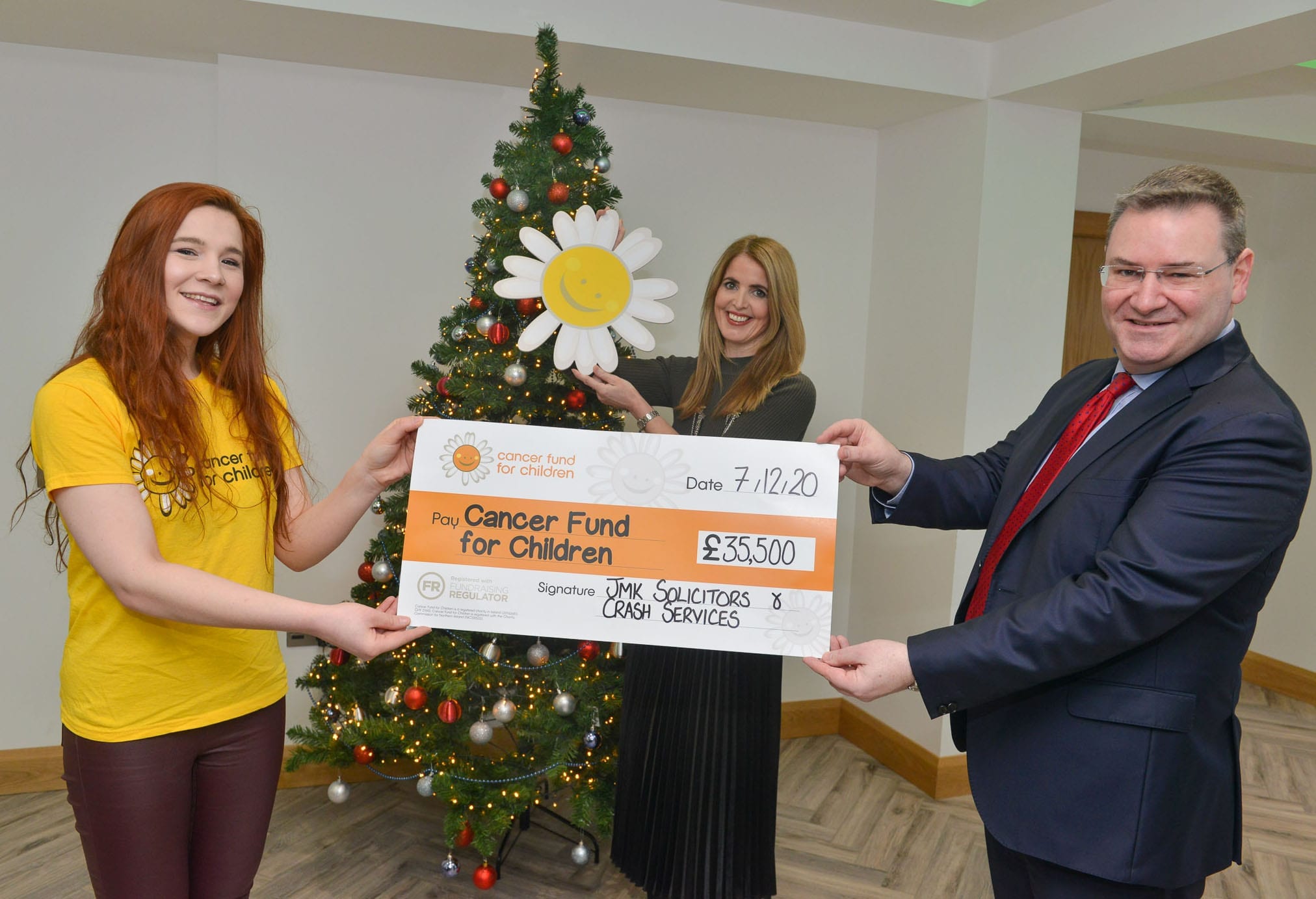 Pictured from L to R: Alex Murdock, Corporate Fundraiser at Cancer Fund for Children, Maurece Hutchinson, Managing Director at JMK Solicitors, and Jonathan McKeown, Chairman of JMK Solicitors and CEO at CRASH Services.
Staff at JMK Solicitors and CRASH Services have donated a total of £35,500 to their 2020 charity partner Cancer Fund for Children this December. This is down to the incredible fundraising efforts of their team throughout the year, despite the impact of the Covid-19 lockdown.
Cancer Fund for Children supports children and young people diagnosed with cancer or living with a parent with the disease. They offer support in the home, community, on the hospital ward, and at their residential centre, Daisy Lodge in Newcastle, with the aim that no family faces cancer alone.
Jonathan McKeown, Chairman of JMK Solicitors and CEO at CRASH Services said, "We are delighted to have been able to support Cancer Fund for Children during a very difficult year for charities across the province.  Each year our staff nominate and choose the charity they wish to support for the whole year, meaning they will usually have a personal connection to the group we are helping and are engaged in our fundraising activity.
Due to the pandemic, we were unable to carry out our in-person fundraising events that we had planned, however, our people got creative with virtual events.  They not only raised funds but also increased employee morale at a time when most of them were working from their homes. We hosted online quizzes, a virtual dress-up day called 'Fancy Pants Friday', and a distance challenge where they ran, walked and cycled over 3,000 miles over the course of a month. Our kind-hearted staff also opted to join into a monthly salary sacrifice scheme where a regular amount is donated each month going directly to the Cancer Fund for Children."
Jonathan added, "We look forward to working with Phil Alexander, their CEO, and his dedicated team for another year as we have extended our partnership until the end of 2021 to allow us to give more time and resources to this deserving charity. We are hopeful that we may be able to enjoy some fundraising activity in person next year!"
Phil can be heard speaking about his work on episode 1 of the 'Just Cause' Podcast which highlights the people behind, and the work being done by, local charitable organisations.
Alex Murdock, Corporate Fundraiser at Cancer Fund for Children commented,
"What a year 2020 has been, but despite it all, I am thrilled at what CRASH Services, JMK Solicitors, and Cancer Fund for Children have been able to achieve together. Reaching the staggering total of £35,500 throughout the pandemic in support of local families impacted by cancer is such an incredible achievement, and I cannot thank all the team at both CRASH and JMK enough. That we have been able to adapt our services and continue being here for families when they need us now more than ever simply would not be possible without such amazing people by our side.
All the team have gone above and beyond with their in-house initiatives, quiz nights, dress-up days, and fitness challenges which have been so generously matched funded by the companies. I can't wait to begin 2021 afresh with lots of new ideas for challenges so, together, we can ensure children across Northern Ireland don't have to face cancer alone. All being well some of those challenges will be in person!"
If you are feeling inspired and think your organisation would be interested in raising vital funds to support local young people and families impacted by cancer, please don't hesitate to get in touch with Alex Murdock at alex@cancerfundforchildren.com or call 028 9080 5599.
---
JMK Solicitors are Northern Ireland's Number 1 Personal Injury Specialists. With a team of over 100 people including a team of personal injury solicitors, we assist clients all over Northern Ireland. If you have suffered a personal injury, been in a road traffic accident, had an accident at work, or suffered a medical accident, contact our team for a free consultation.
Call us today on 028 9032 0222 or email us law@jmksolicitors.com