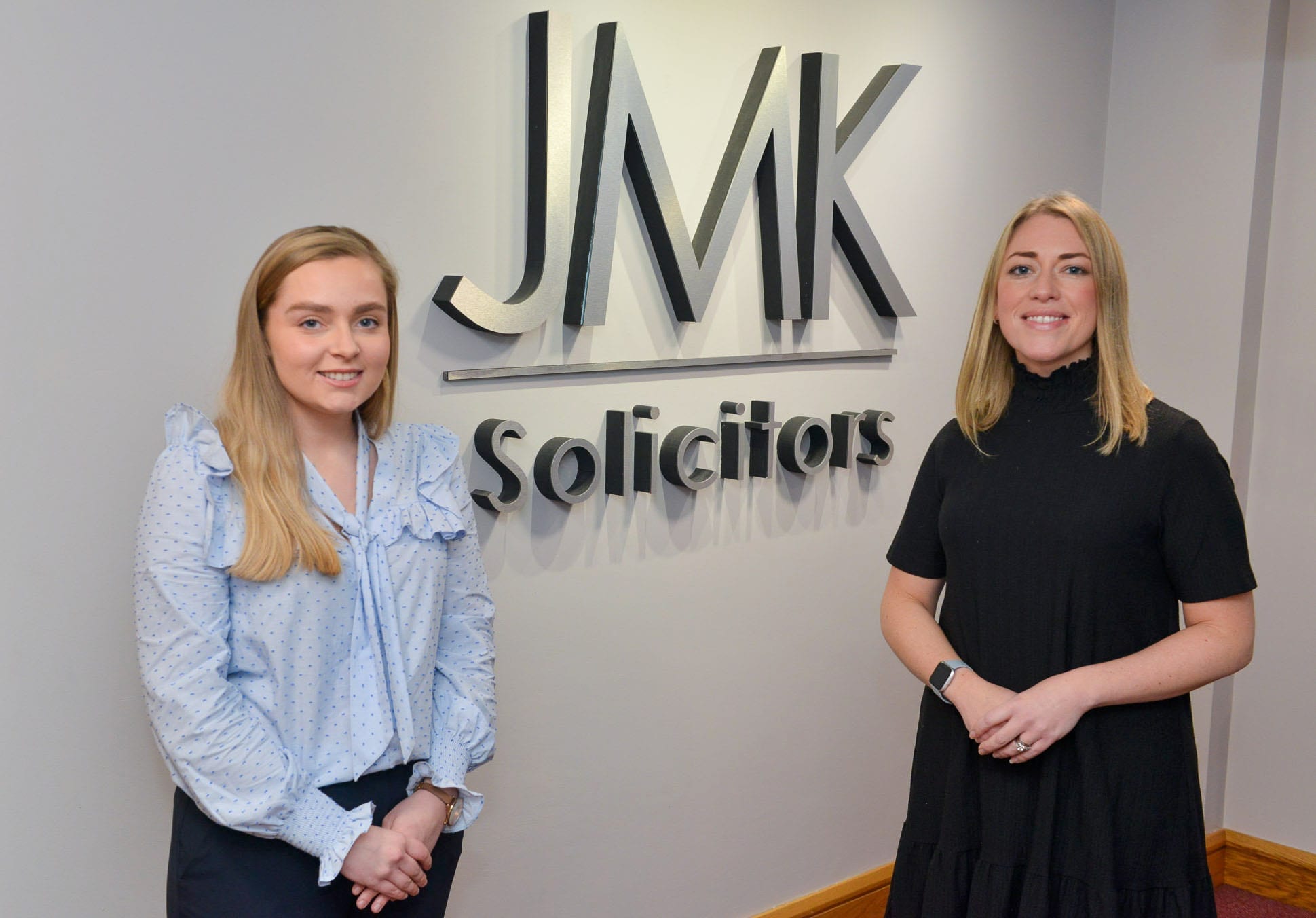 JMK Solicitors' newest Legal Administrator, Amy Cartmill pictured with Head of Operations and HR, Michelle Murphy
Administration and support staff at JMK Solicitors, Northern Ireland's number one personal injury practice, are benefitting from the legal firm's decision to increase their employee's minimum wage.
With offices in Newry and Belfast, JMK Solicitors has committed to paying all full-time members of staff a minimum annual salary of £20,000, effective from 1 November 2020.
The UK Government's National Minimum Wage rate for Over 25's is £8.72 per hour, while the popular law firm has confirmed a minimum wage of £12.80 per hour, based on a 30-hour workweek.
The news comes just five months after JMK Solicitors received widespread praise after announcing a workweek reduction for all staff.
The 20% curbing of working time saw the highly engaged team moving from a 37.5-hour workweek to 30 hours – with no reduction in pay.
Head of Operations and HR, Michelle Murphy, says that with the COVID-19 pandemic affecting workplaces and employment practices both locally and globally, JMK Solicitors has again prioritised its people.
"We are committed to offering the best benefits and remuneration package to all of the dedicated members of our company.
Our Administration team is vital to our continued success; they provide essential support to our legal advisors as well as an invaluable service to our clients," she continues.
Michelle says the legal firm was always "fully committed" to the concept of a living wage but says JMK Solicitors was keen to take it a step further.
"We are committing not only to meet that target set by the government but beating it."
This, Michelle says, has been achieved by paying all staff members an appropriate salary for the work they carry out.
Michelle speaks of her pride at how the company has led the way with innovative work/life balance initiatives and salary increases.
"We are proud that we have the best team at JMK, and we want to reward our existing staff members and attract the best in the future."
JMK Solicitors has worked hard to provide a range of exceptional perks for those lucky enough to get through the selection process.
These include the 20% workweek reduction without reducing pay, allowing flexible and remote working to all, and additional annual leave.
Other initiatives have even allowed the business to work remotely from outside the UK and Ireland, medical insurance, and access to a wellbeing programme.
Michelle adds, "We are lucky to have such a professional and skilled set of people to work with, and we know that making them feel rewarded makes for a happy workforce and our clients really appreciate and benefit from that in what is often a very stressful time following an injury or accident."
JMK Solicitors are Northern Ireland's Number 1 Personal Injury Specialists. With a team of over 100 people including a team of personal injury solicitors, we assist clients all over Northern Ireland. If you have suffered a personal injury, been in a road traffic accident, had an accident at work, or suffered a medical accident, contact our team for a free consultation.
Call us today on 028 9032 0222 or email us law@jmksolicitors.com