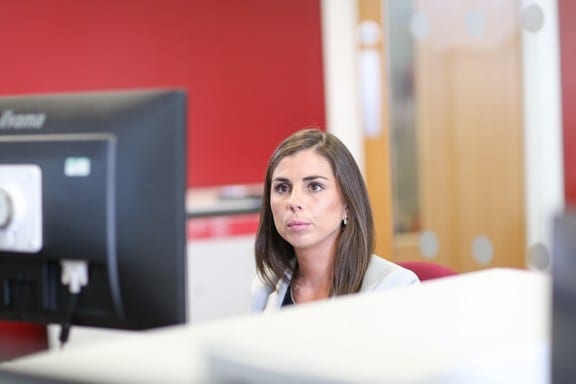 Before making a personal injury claim, it's essential to understand your injury, how it happened, and if someone is responsible for paying compensation for your injury. Today, with the help of personal injury claims expert, Carmel Ross who is a solicitor from JMK Solicitors, we're exploring the four things you need to know first before making a personal injury claim.
1. Determine the extent of your injuries.
It's a difficult time for you with the stress of being involved in a traumatic event such as a road traffic collision, an accident at work, or an injury through medical negligence.
And with the addition of an injury, you need to look after yourself as much as possible.
The first thing you need to ask yourself is: "How am I injured?"
Carmel explains, "Some people don't initially recognise they're injured or even try to downplay those injuries.
It's important to understand your injuries and be kind to yourself and get medical treatment if you need it.
Where you have medical insurance in place; utilise it to put yourself back into the position you were in pre-injury," she explains.
Whether it's an injury that lasts two days or an injury that lasts a lifetime, it has to be a recognised injury.
And there's a broad spectrum of injuries that you can sustain, Carmel says.
"It could be anything from an injured tooth to a psychiatric injury, which sometimes people overlook.
A lot of road traffic accidents result in travel anxiety or adjustment disorders.
We find a lot of clients downplaying this, saying things like 'I just reacted the way anyone typically would in those circumstances'. That's where you need to engage with medical experts to give an appropriate assessment and opinion.
It's important to recognise that you are actually injured and don't downplay any injuries," she adds.
"Those injuries that are downplayed are the ones we see that can last a long time," Carmel insists.
"Just because you don't have a broken bone or you have an injury that can't be seen, it doesn't mean it's not a legitimate injury which is impacting on your day to day life.
Clients should also be mindful of pre-existing conditions or underlying vulnerabilities; their existing conditions could be exacerbated by what has happened to them such as a flare-up in a skin disease like psoriasis," she adds.
Always seek legal advice from the experts.
2. Is someone responsible for my injuries?
"There are many examples of where people can be injured through failures of others," Carmel explains.
"For example, in a road traffic accident, if another driver fails to drive carefully and strikes you then they've breached their duty to drive reasonably.
Another example, in an employer's liability case, can be an employer who hasn't provided Personal Protective Equipment such as goggles, gloves, masks, or an employer who has not provided appropriate training or carried out sufficient risk assessments. This means the employer has breached their statutory duty to their employee.
In medical negligence, if a doctor hasn't provided you with treatment to a standard that is acceptable of a competent doctor, then they will have breached their statutory duty."
Carmel adds, "Ultimately, it's about being able to pinpoint how another party has breached their duty or been negligent towards you, which caused your injury."
3. How did the Injury Happen?
Once you've established that there is an injury and that there is a person who is responsible for it, the next important question you need to think about is: "did that person cause my injuries?"
Causation is vital in litigation; did your injuries happen as a result of an accident or as a direct consequence of another party?
"It essentially means, was your injury preventable or inevitable?," Carmel says.
4. What you can claim for.
Personal injury claims can encompass a wide variety of things.
"People assume they only include getting money for an injury, but that's not the case," says Carmel.
"They include a lot of other things like treatment costs such as physiotherapy and Cognitive Behavioural Therapy, and future loss of earnings claims.
JMK Solicitors has a vast partner network of medical experts that we work alongside, regardless of how unusual your injuries are.
We also have access to treatment providers that we can put clients in contact with at the direction of medical experts.
JMK Solicitors' unique insurance policy offers you protection against the financial risks of bringing a claim for compensation.
The policy covers not just your opponent's costs but your own costs if they cannot be recovered from another party," Carmel adds. This takes away the stress of worrying about legal costs when you have enough stress coping with the injury.
JMK Solicitors are Northern Ireland's Number 1 Personal Injury Specialists. With a team of over 100 people including a team of personal injury specialists, we assist clients all over Northern Ireland. If you have suffered a personal injury, been in a road traffic accident, had an accident at work or suffered a medical accident, contact our team for a free consultation.
Call us today on 028 9032 0222 or email us law@jmksolicitors.com
© Copyright JMK Solicitors [2022]. All rights reserved.