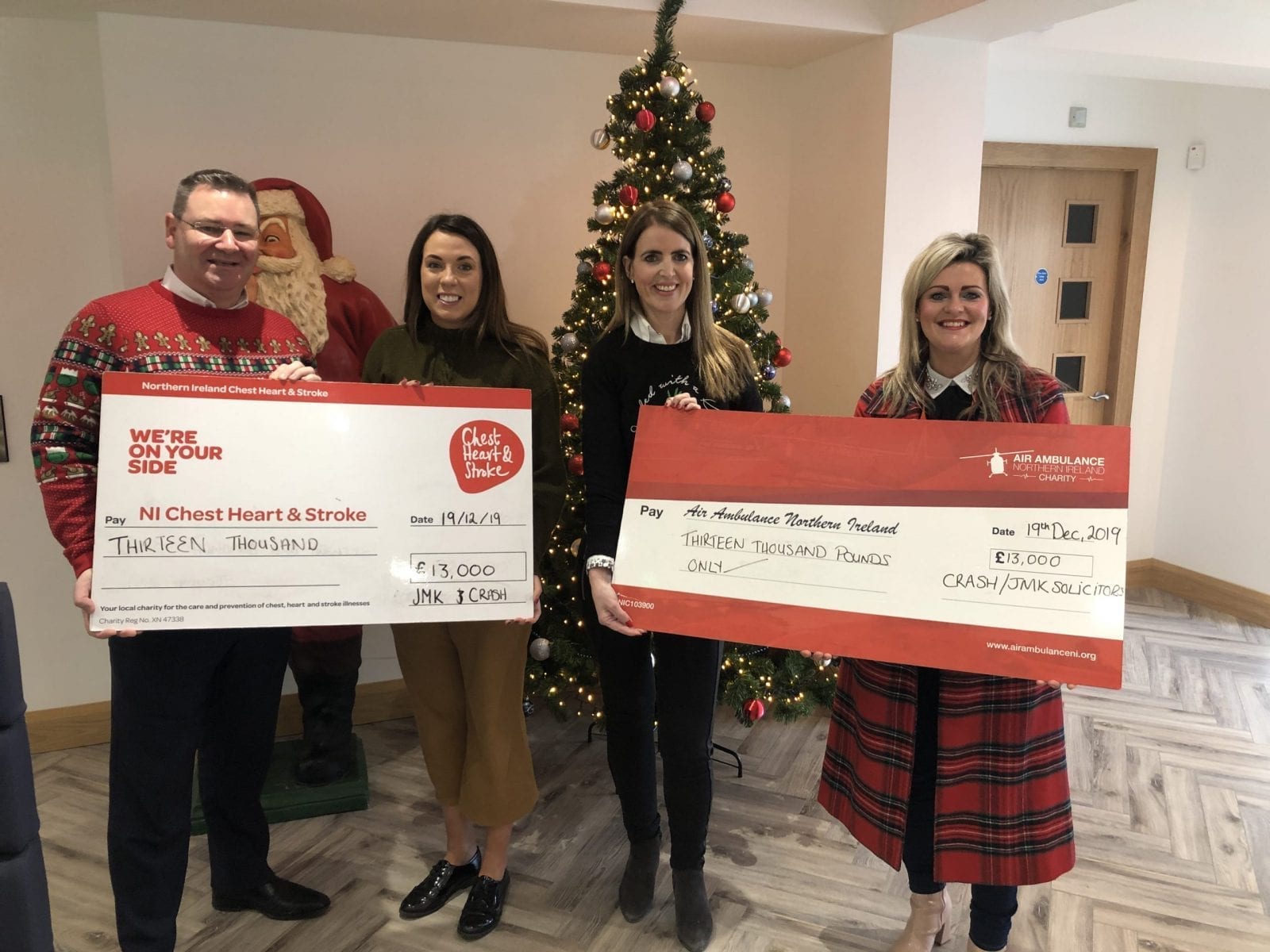 JMK Solicitors, Northern Ireland's number one Personal Injury and Road Traffic Accident specialists, have presented cheques totalling £26,000 to their 2019 charity partners following a year-long staff fundraising programme.
Air Ambulance Northern Ireland
The first charity to benefit was Air Ambulance Northern Ireland. AANI is a local charity that provides the Helicopter Emergency Medical Service (HEMS) for Northern Ireland, together with their partners at the Northern Ireland Ambulance Service (NIAS). The service brings urgent medical assistance to anywhere in the province, operating seven days a week for 12 hours per day. It can get to anywhere in Northern Ireland in approximately twenty-five minutes.
NI Chest Heart and Stroke
The second charity, NI Chest Heart and Stroke also assists people at what can be a very difficult time in their lives. The latest statistics show that almost 1 in 5 people in Northern Ireland is living with a chest, heart or stroke condition. NICHS offers support to those living with life-changing conditions and prevents others from becoming ill through a wide range of care services and health promotion programmes."
Maurece Hutchinson, Managing Director at JMK Solicitors said "We are delighted to be able to support two such worthwhile charities.  Each year our staff nominate charities to support for the whole year.  The two charities with the most nominations are then selected and this year our charity partners have close connections to members of staff.
Our people are committed to raising as much money as possible through a series of events such as the Belfast Marathon, a 'Night at the Races', Big Breakfasts and Dress Down days.  We are so pleased that their efforts have paid off and as a result, the company agreed to match fund their fundraising total.
We know the funds will be put to good use and supporting people when they need it most".
---
JMK Solicitors operate from offices in Belfast and Newry and assist clients from across Northern Ireland to recover compensation.
JMK Solicitors are Northern Ireland's Number 1 Personal Injury Specialists. With a team of over 100 people including a team of personal injury solicitors, we assist clients all over Northern Ireland. If you have suffered a personal injury, been in a road traffic accident, had an accident at work, or suffered a medical accident, contact our team for a free consultation.
Call us today on 028 9032 0222 or email us law@jmksolicitors.com