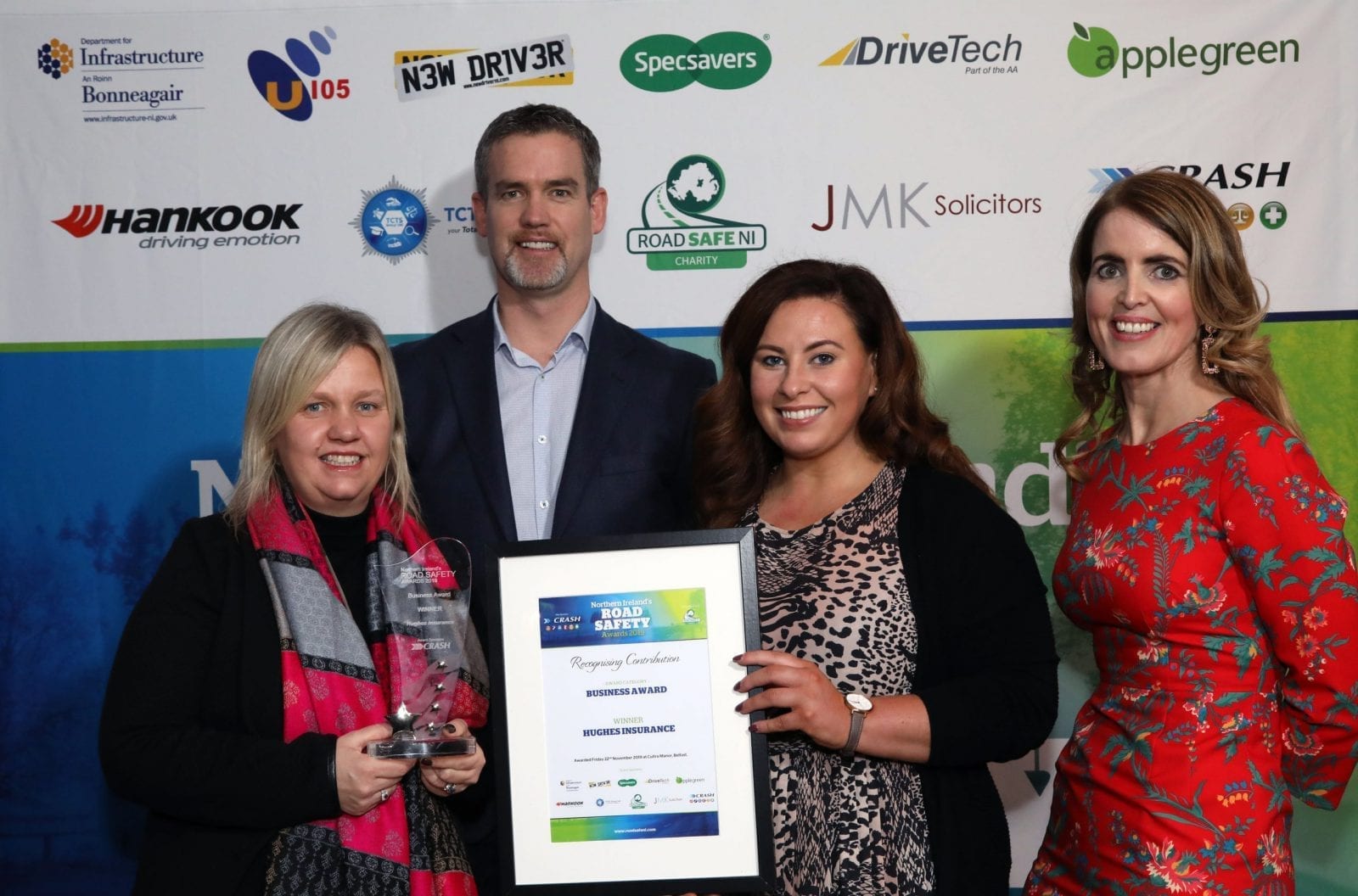 Northern Ireland Road Safety Awards 2019
JMK Solicitors were delighted to present Hughes Insurance with the winner's trophy in the Business category at the Northern Ireland Road Safety Awards 2019.
The award was presented at a prestigious event attended by more than 100 specially invited guests at Cultra Manor, Holywood on Friday 22nd November.
The awards, now in their fifth year, recognise road safety champions for their contribution to helping improve safety in their communities.  They included individuals, organisations and special projects from across the voluntary, education, emergency service and business sectors.
Pat Martin MBE, Chairperson of Road Safe NI who organise the event said "We had a fantastic response to the awards again.  There is such a vibrant and committed road safety community working all over Northern Ireland.  We are delighted to play our part in recognising those who go the extra mile.   The winning entries really stood out for their efforts over a long period of time and for delivering innovative projects. There is so much good work going on across our schools, local communities, emergency services and businesses.  The award winners are an inspiration to others and there is no question their efforts are saving lives on the road."
Maurece Hutchinson, Managing Director of JMK Solicitors, said: "We congratulate everyone for their extraordinary commitment to road safety.  In particular in our sponsored category.  The Hughes Insurance #Leavethephonealone was recognised for the way the company addressed the growing problem of distracted driving using mobile phones.  Hughes Insurance invested significant time and resources into the awareness raising campaign.   The tone of the campaign was care and not scare, in order to not deter motorists from the message but to advise of the need for change.  The campaign reached almost 400,000 people on social media."
Winners across the various categories were Edwards Primary School, Castlederg and Autoline Insurance (Education), Mr Steve Carter, Newtownabbey and Mrs Isabella Collum, Fivemiletown (Lollipop Person), Gavin Sinclair and Ann McKiver (Driving Instructor), Constable Stephen Dickson (Emergency Services), Patricia O'Neill (Voluntary Sector Individual), A1 How many Must Die? (Voluntary Sector Group) P Keenan Roads (HGV/ LGV), Hughes Insurance (Business), Your Choice programme from NI Fire & Rescue Service. Mid Ulster and Fermanagh and Omagh PCSP (Public Sector) and Mr Harry Rutherford (Lifetime Achievement).
For more information please visit www.roadsafeni.com 
---
JMK Solicitors are Northern Ireland's Number 1 Personal Injury Specialists. With a team of over 100 people including a team of personal injury solicitors, we assist clients all over Northern Ireland. If you have suffered a personal injury, been in a road traffic accident, had an accident at work, or suffered a medical accident, contact our team for a free consultation.
Call us today on 028 9032 0222 or email us law@jmksolicitors.com