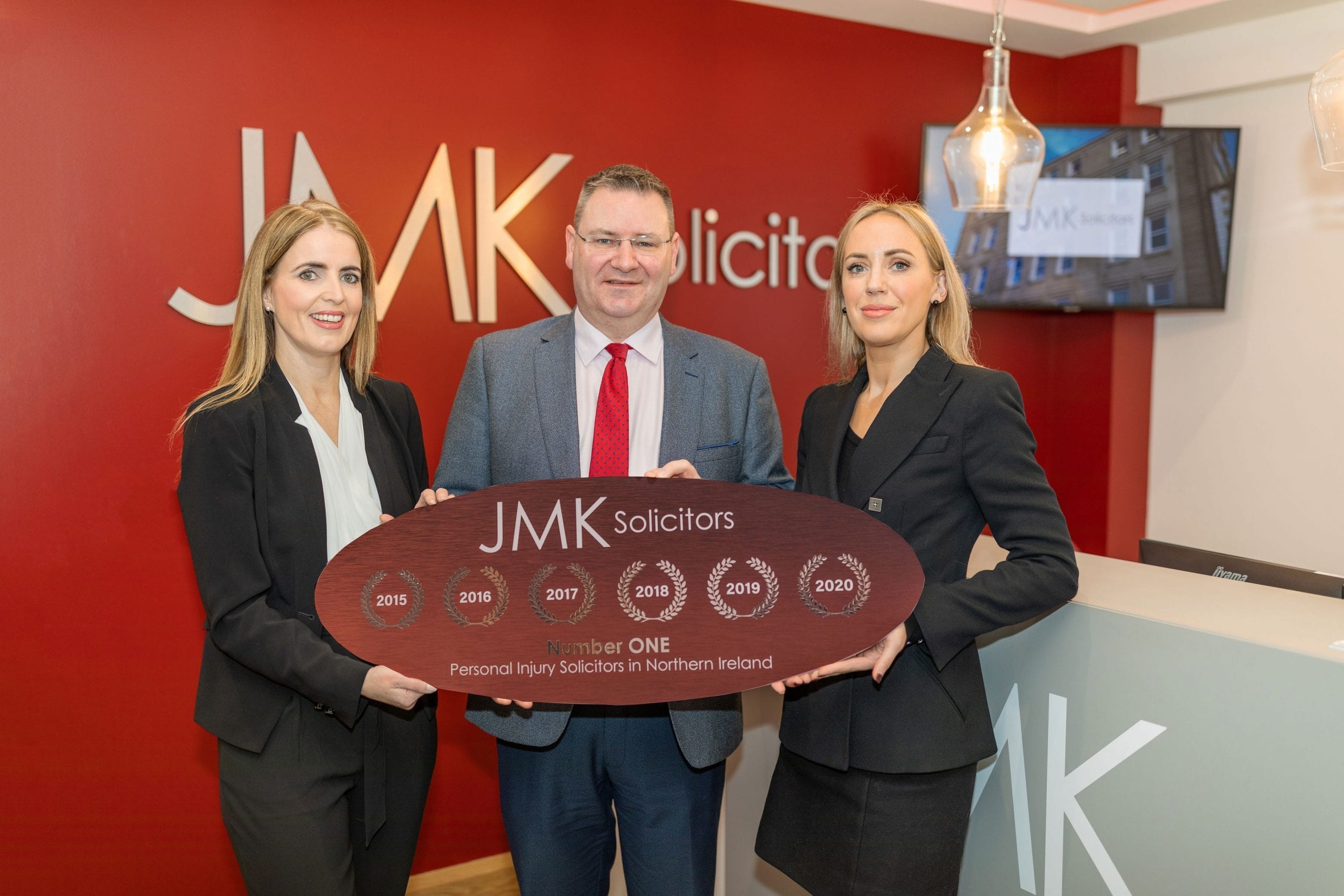 L-R: Pictured are Maurece Hutchinson, Managing Director, Jonathan McKeown, Chairman and Olivia Meehan, Legal Services Director.
JMK Solicitors have once again retained their No.1 position as Northern Ireland's leading personal injury law firm for the sixth consecutive year, handling more cases locally than any other legal firm.
The Belfast and Newry-based legal firm were instructed in a record 1,625 separate personal injury cases registered in 2019, a 5% growth on the previous year and nearly more than treble as many cases as its nearest competitor, according to recent figures obtained from the Compensation Recovery Unit, a division of the Department for Communities.
The company credited its continued growth to a programme of investment in staff, technology, brand awareness and exclusive focus on personal injury and road traffic claims. Overall staff numbers have grown to 68, which has more than doubled over the last four years.
Maurece Hutchinson, JMK Solicitors Managing Director, said:
"We are delighted to announce that for a sixth consecutive year, JMK Solicitors remain NI's No.1 personal injury firm. We are unique in that we only handle personal injury and road traffic accident claims. This complete focus means our staff have built up significant specialist skills and knowledge in this area of law. We continue to invest heavily in training to ensure we can continue to help every client fully and fairly recover their losses with the least possible stress.  We are very proud that 98.6% our clients would recommend JMK Solicitors to a friend."
In 2017, JMK Solicitors achieved the Lexcel accreditation, which is a Quality Mark for the legal profession administered by the Law Society and recognises firms which achieve excellence in legal practice management and client care.
JMK Solicitors is a practice which is accredited by the Association of Personal Injury Lawyers (APIL).  The UK wide association has been fighting for the rights of injured people for over 25 years and has grown to become the leading, most respected organisation in this field. The JMK team includes; Andrew Moore, Sinead Toal and Una O'Neill, who are accredited by APIL as Senior Litigators and Maurece Hutchinson who received the Fellow accreditation in 2019.
JMK Solicitors are Northern Ireland's Number 1 Personal Injury Specialists. With a team of over 100 people including a team of personal injury solicitors, we assist clients all over Northern Ireland. If you have suffered a personal injury, been in a road traffic accident, had an accident at work, or suffered a medical accident, contact our team for a free consultation.
Call us today on 028 9032 0222 or email us law@jmksolicitors.com