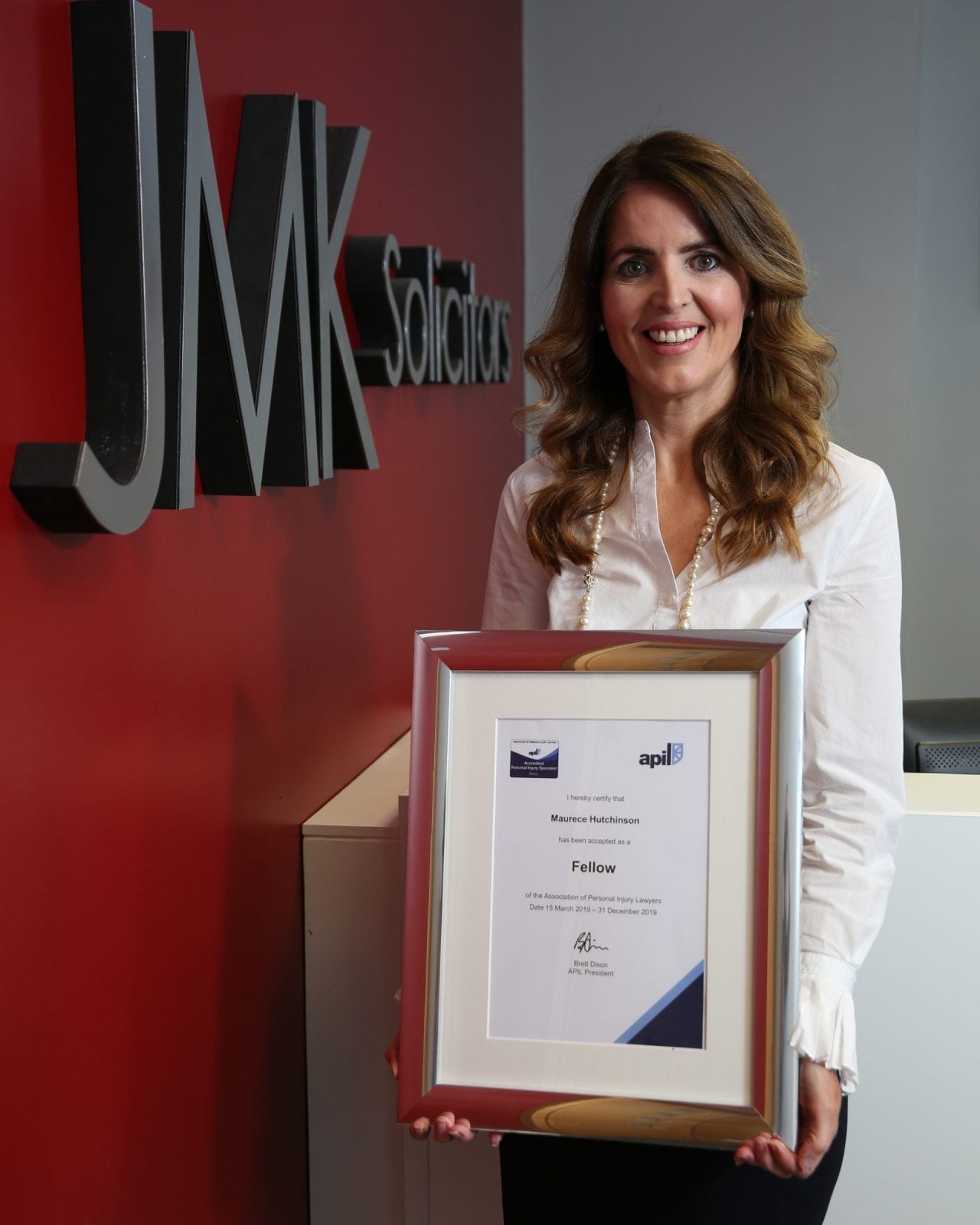 The managing director of Northern Ireland's leading personal injury law practice, JMK Solicitors, has been recognised with a prestigious industry accolade. Maurece Hutchinson has been awarded a Fellowship from the Association of Personal Injury Lawyers. The Association is a UK wide organisation with over 3,200 lawyer members.
Maurece is one of only three Northern Ireland based legal professionals to currently hold this accreditation.  A fellowship from APIL acknowledges experienced solicitors who demonstrate a high level of expertise. They are acknowledged by their peers as being in a position of professional and intellectual leadership in the field of personal injury law.
Maurece has been with JMK Solicitors for 15 years in which time she has led the Belfast and Newry based firm to a place where it now handles more personal injury claims than any other legal practice, a position it has held for the last five years.
JMK Solicitors employ over 60 people to include 26 Solicitors.  Maurece has also implemented a series of innovative new ideas in the business.  These include introducing a paperless office as well as overseeing a significant investment programme in staff development, IT and Marketing.
Maurece has contributed to many key legal industry consultations.  One such example was her contribution to Lord Justice Gillen's Review of Civil and Family Justice, specifically on the issue of protecting children's compensation claims. As a result of this, a recommendation has been made to bring forward legislation to ensure children are protected in the future.
Commenting on her achievement, Maurece said "I am delighted that APIL have honoured me with a Fellowship.  I always wanted to practice law and have specialised in helping people after suffering injuries for over 20 years.  It is humbling to be recognised by your peers and to be amongst the leading personal injury lawyers across the UK.
I believe that we at JMK are helping clients in a way no other area of law could. Rehabilitation, cost of care and compensation can turn lives around.  I get great satisfaction from knowing we are assisting clients to move on from traumatic events in their lives".
---
JMK Solicitors are Northern Ireland's Number 1 Personal Injury Specialists. With a team of over 80 people including a team of personal injury experts, we assist clients all over Northern Ireland. If you have suffered a personal injury, been in a road traffic accident, had an accident at work or suffered a medical accident, contact our team for a free consultation.
Call us today on 028 9032 0222 or email us law@jmksolicitors.com