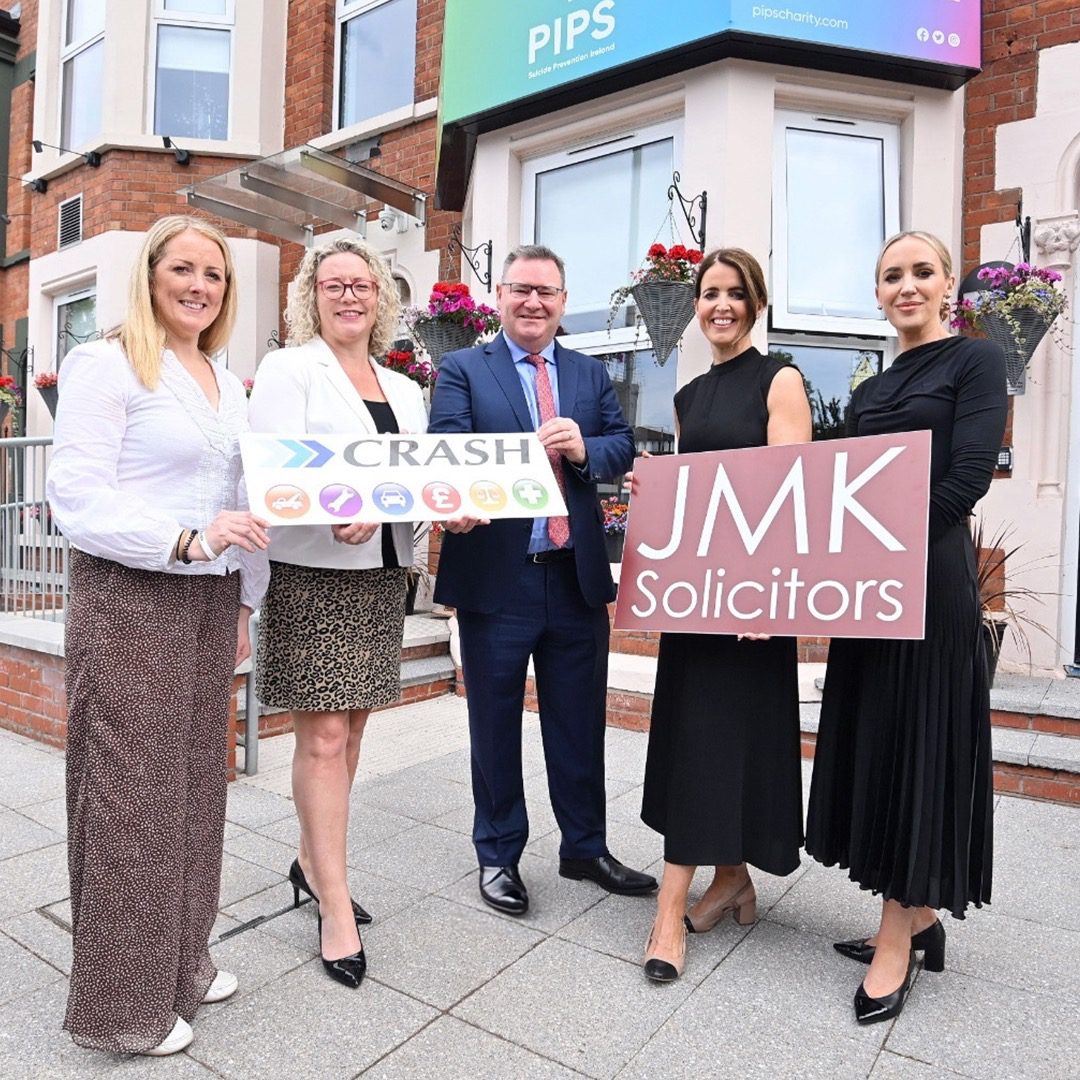 Half Year update – £10k donated to PIPS Suicide Prevention Charity (PIPS Charity).
JMK Solicitors, NI's number 1 personal injury solicitors and CRASH Services, NI's leading accident management company, have raised an impressive £10,000 so far this year for their charity partner, PIPS Suicide Prevention. This accomplishment is the outcome of their dedicated teams' fundraising endeavours and commitment to supporting PIPS Charity in the awareness of suicide and mental health.
Renee Quinn, Executive Director at PIPS Charity said, "PIPS Suicide Prevention Charity is thrilled to partner with CRASH Services and JMK Solicitors, it helps us to keep our doors open across the province to help and support those in crisis need. We have seen a phenomenal increase in our service uptake since Covid and the support CRASH Services and JMK Solicitors have been able to provide us with has been critical to helping us deliver for every client".
PIPS Charity offers expert and unrestricted face-to-face counselling services to individuals who have been affected by suicide, extending support to families, friends, and colleagues. Their counselling services are accessible to everyone throughout Northern Ireland, thanks to their well-established centres in Belfast, Derry~Londonderry, and Enniskillen.
With a primary focus on providing free counselling services, PIPS Charity ensures that their assistance is available to all those in need. Their crisis walk-in service has no limitations on the number of counselling sessions, enabling them to make the most significant impact and ensure that no client's future is constrained. By addressing the emotional and psychological needs of families, PIPS Charity equips them with the necessary skills, confidence, and resilience during challenging times, acting as a lifeline for many.
Jonathan McKeown, Chairman of JMK Solicitors and CEO at CRASH Services, expressed his delight, commenting, "We are thrilled to have raised such a substantial amount for our incredible charity partner. Our team recognise the importance of focusing on mental health awareness and maximising our fundraising efforts for this outstanding service. We are proud to announce that for the first half of 2023, the team have raised £10,000, and there is more fundraising activity planned for the remainder of the year."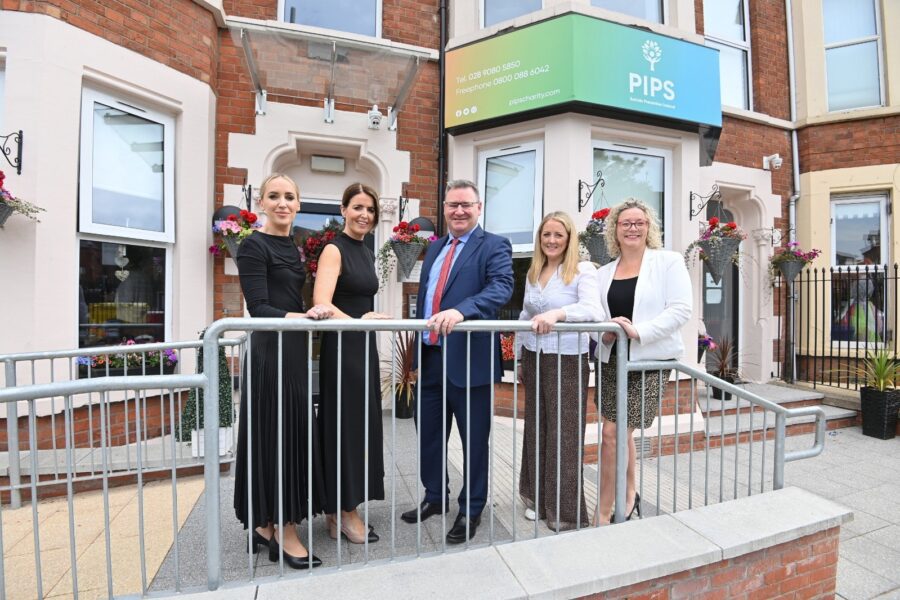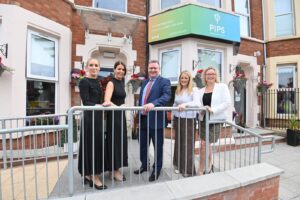 Pictured: Olivia Meehan, Legal services Director, Maurece Hutchinson, Managing Director and Jonathan McKeown, Chairman of JMK Solicitors with Helen Brogan, Fundraising Engagement Manager and Renee Quinn, Executive Director at PIPS Charity.
The impressive half-year total was achieved through the creative fundraising initiatives devised by the staff. These initiatives included engaging fitness challenges, a hike up Slieve Donard, team participation in the Belfast City Marathon, and an Easter colouring competition. Furthermore, our compassionate employees have opted to participate in a monthly salary sacrifice scheme, making monthly donations, additionally, for every app download, we contribute £1 towards the charity total.
Looking ahead, we have planned exciting activities such as sweepstakes, charity dress-down days, and bake sales. In addition, our Fleet Director, Paul Cooney will be joined by representatives from a number of car repair garages who CRASH works with regularly, to cycle an impressive 90 miles around Lough Neagh in August. The momentum continues to build as we strive to help make an impact on mental health awareness and support in our community."
---
JMK Solicitors are Northern Ireland's Number 1 Personal Injury Specialists. With a team of over 100 people including a team of personal injury solicitors, we assist clients all over Northern Ireland. If you have suffered a personal injury, been in a road traffic accident, had an accident at work or suffered a medical accident, contact our team for a free consultation.
Call us today on 028 9032 0222 or email us law@jmksolicitors.com