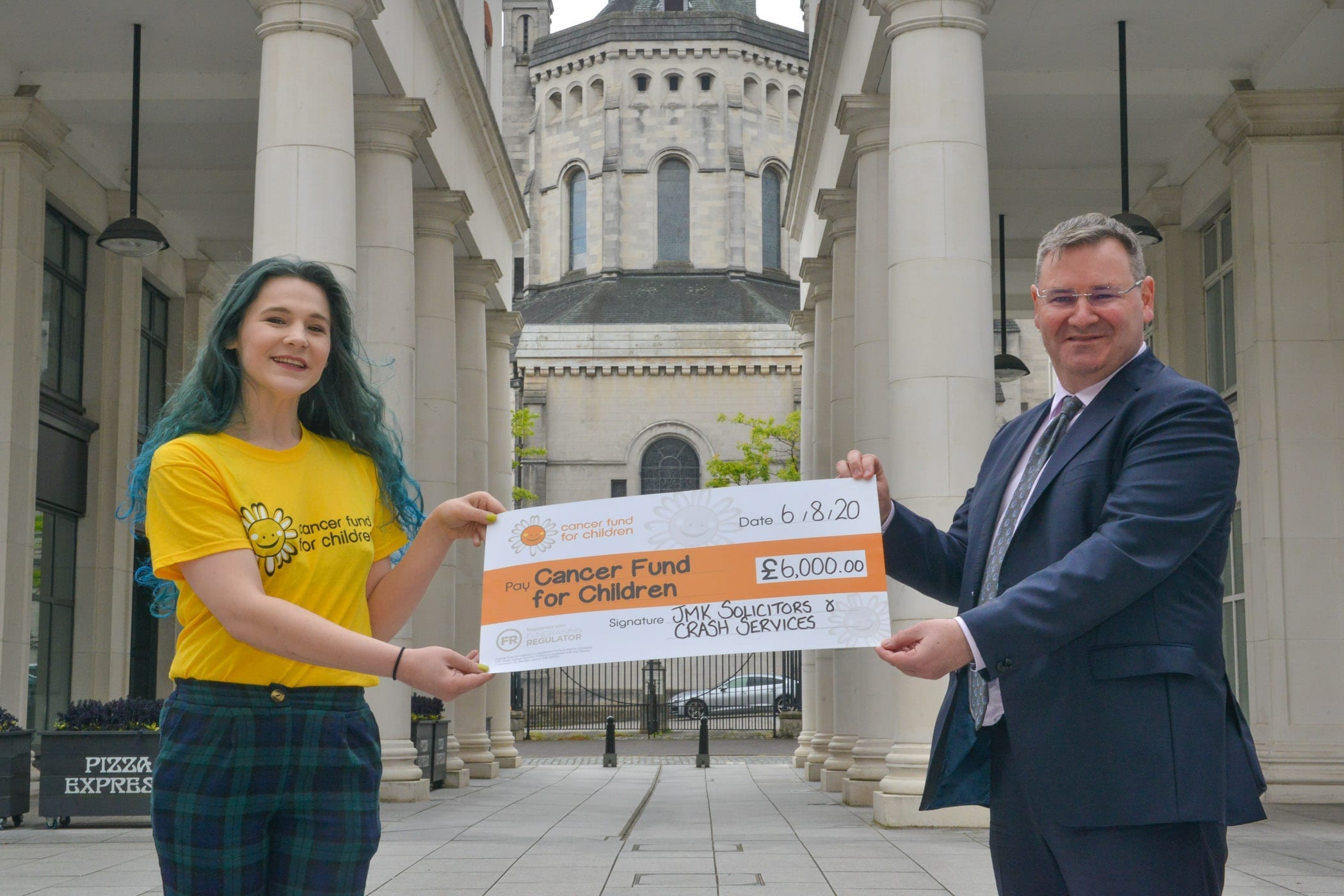 Staff at JMK Solicitors and CRASH Services have raised £6,000 so far for their 2020 charity partner Cancer Fund for Children. This as the result of the fundraising efforts of their team, despite the impact of the Covid-19 lockdown, in the first half of 2020.
Cancer Fund for Children support children and young people diagnosed with cancer or living with a parent diagnosed with cancer. They offer support in their home, community, on the hospital ward and at their residential centre, Daisy Lodge in Newcastle, with the aim that no family face cancer alone.
Jonathan McKeown, Chairman of JMK Solicitors and CEO at CRASH Services said, "We are delighted to be able to support Cancer Fund for Children during what must have been a very difficult year for charities across the province. Although we have been unable to carry out some in-person fundraising events we had planned, our people got creative with virtual events.  They not only raised funds but also increased employee morale at a time when the majority of them were working from their homes. We have hosted online quizzes, a virtual dress up day called 'Fancy Pants Friday' – the photos of which can still be seen on our Facebook pages – and have more fundraising challenges planned over the coming months. Our kind-hearted staff have also opted to join into a monthly salary sacrifice scheme where a regular amount is donated each month going directly to the charity."
Jonathan added, "We have decided to extend our charity partnership with Cancer Fund for Children for an additional year, into 2021, to allow us to dedicate more time and resources into fundraising for this deserving charity which was chosen by our employees at a time when we thought we would have a normal year ahead in 2020."
Alex Murdock, Corporate Fundraiser at Cancer Fund for Children commented, "It has been a pleasure to work alongside CRASH Services and JMK Solicitors this year with a range of exciting activities including their CEO/Chairman taking part in our 300km Cycling Challenge in July. These events are a wonderful way to raise awareness of the support Cancer Fund for Children provides local young people and families impacted by cancer, and also highlight our dedication to supporting our local communities.
"Despite the disruptions caused by COVID-19 this year, CRASH Services and JMK Solicitors continue to show their compassion and appreciation for local families and their colleagues. I cannot wait to see what the remainder of 2020, and 2021, holds for our wonderful charity partnership. My warmest and most heartfelt thanks goes to all the team for their incredible efforts and for choosing Cancer Fund for Children as the recipient of their support. Moving forward together, we can work to ensure that no child in Northern Ireland has to face cancer without the comfort and support that is needed."
If you are feeling inspired and think your organisation would be interested in raising vital funds to support local young people and families impacted by cancer, please don't hesitate to get in touch with Alex Murdock at alex@cancerfundforchildren.com or call 028 9080 5599.
---
JMK Solicitors are Northern Ireland's Number 1 Personal Injury Specialists. With a team of over 100 people including a team of personal injury solicitors, we assist clients all over Northern Ireland. If you have suffered a personal injury, been in a road traffic accident, had an accident at work, or suffered a medical accident, contact our team for a free consultation.
Call us today on 028 9032 0222 or email us law@jmksolicitors.com