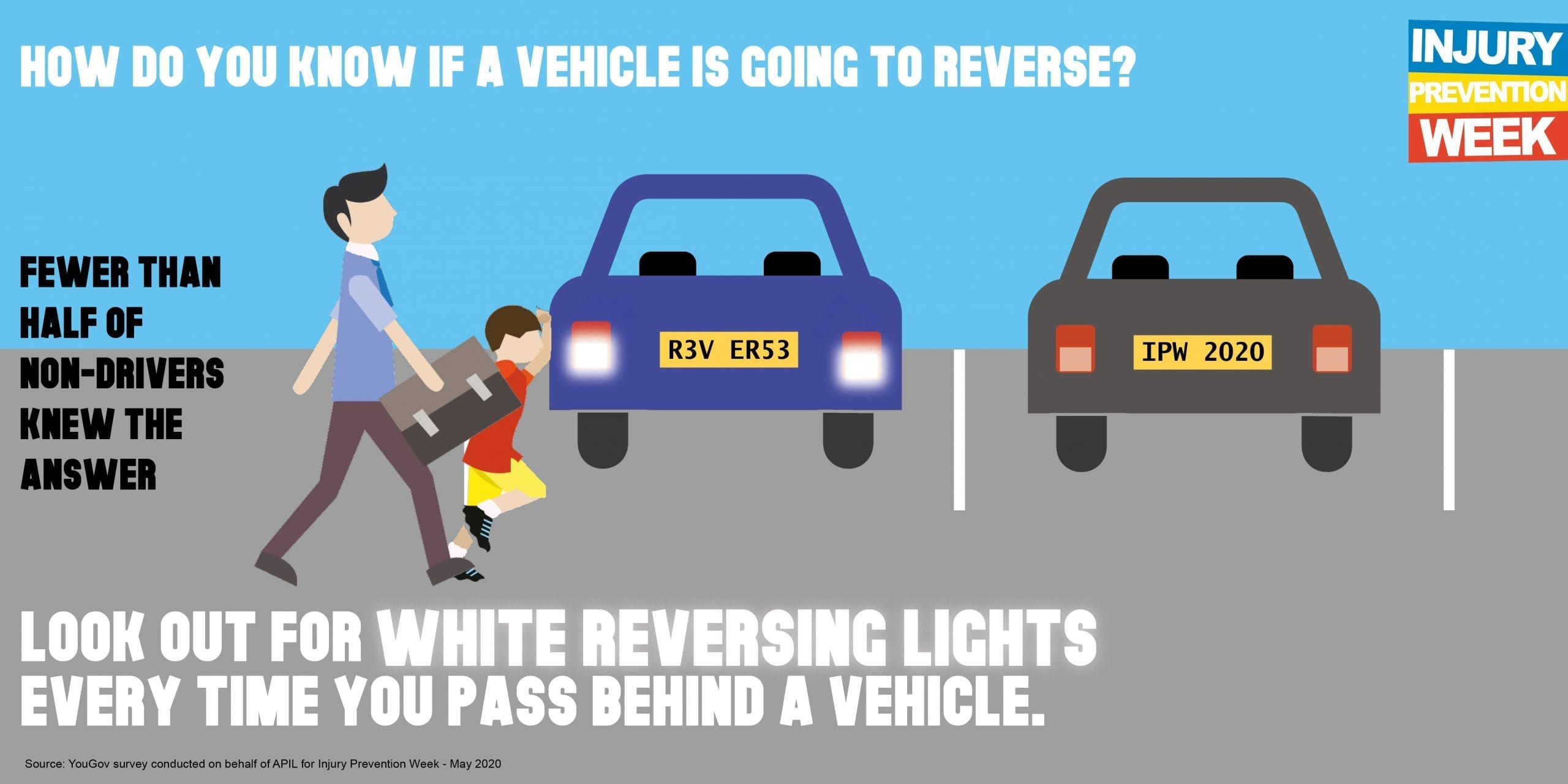 Research commissioned by the Association of Personal Injury Lawyers has revealed that most non-drivers don't know that white lights indicate that a parked car is about to reverse.
The YouGov survey was released to coincide with Injury Prevention Week – an annual campaign which APIL has run since 2015.
The research found that less than half (44%) of non-drivers knew to look out for reverse lights.
The survey also found that almost two-thirds of parents did not think their children had a 'good understanding of road dangers' or 'concentrated properly near roads'.
Injury Prevention Week aims to persuade politicians that "the best way to cut out accident compensation claims is to reduce the number of accidents".
The UK-wide association has been fighting for the rights of injured people for over 25 years and has grown to become the leading, most respected organisation in the field.
APIL President Sam Elsby said that Injury Prevention Day was started because "the government always focuses on the wrong thing" when it looks at personal injury and legal reforms.
"The arguments are never about preventing needless harm in the first place," he insisted.
"Let's be honest, the government's work is often about restricting rights to redress after the harm has been done," Sam added.
The theme of the campaign changes every year; the inaugural 2015 campaign 'Back Off' focused on tailgating and making drivers aware of stopping distances.
Other campaigns in the last five years included countryside safety and the 'Head Rest Test' to avoid whiplash injuries.
This year's theme focuses on pedestrian injuries, particularly involving children.
"As children prepare to head back to school we're asking for the support of MPs to help press the importance of the Green Cross Code in their constituencies," Elsby urged.
The Association of Personal Injury Lawyers has 3,100 members around the UK, and JMK Solicitors is proud to have APIL accreditation.
Managing Director of JMK Solicitors, Maurece Hutchinson, is an APIL Fellow and one of only three Northern Ireland solicitors to hold APIL Fellow accreditation.
Fellowship from APIL acknowledges experienced solicitors who demonstrate a high level of expertise.
Their peers acknowledge them as being in a position of professional and intellectual leadership in the field of personal injury law.
The JMK team also has three solicitors – Andrew Moore, Una O'Neill and Sinead Toal – who are accredited by APIL as Senior Litigators.
Both JMK Solicitors offices – in Newry and Belfast – are Accredited Practices with APIL.
JMK Solicitors are Northern Ireland's Number 1 Personal Injury Specialists. With a team of over 100 people including a team of personal injury solicitors, we assist clients all over Northern Ireland. If you have suffered a personal injury, been in a road traffic accident, had an accident at work, or suffered a medical accident, contact our team for a free consultation.
Call us today on 028 9032 0222 or email us law@jmksolicitors.com
© Copyright JMK Solicitors [2021]. All rights reserved.