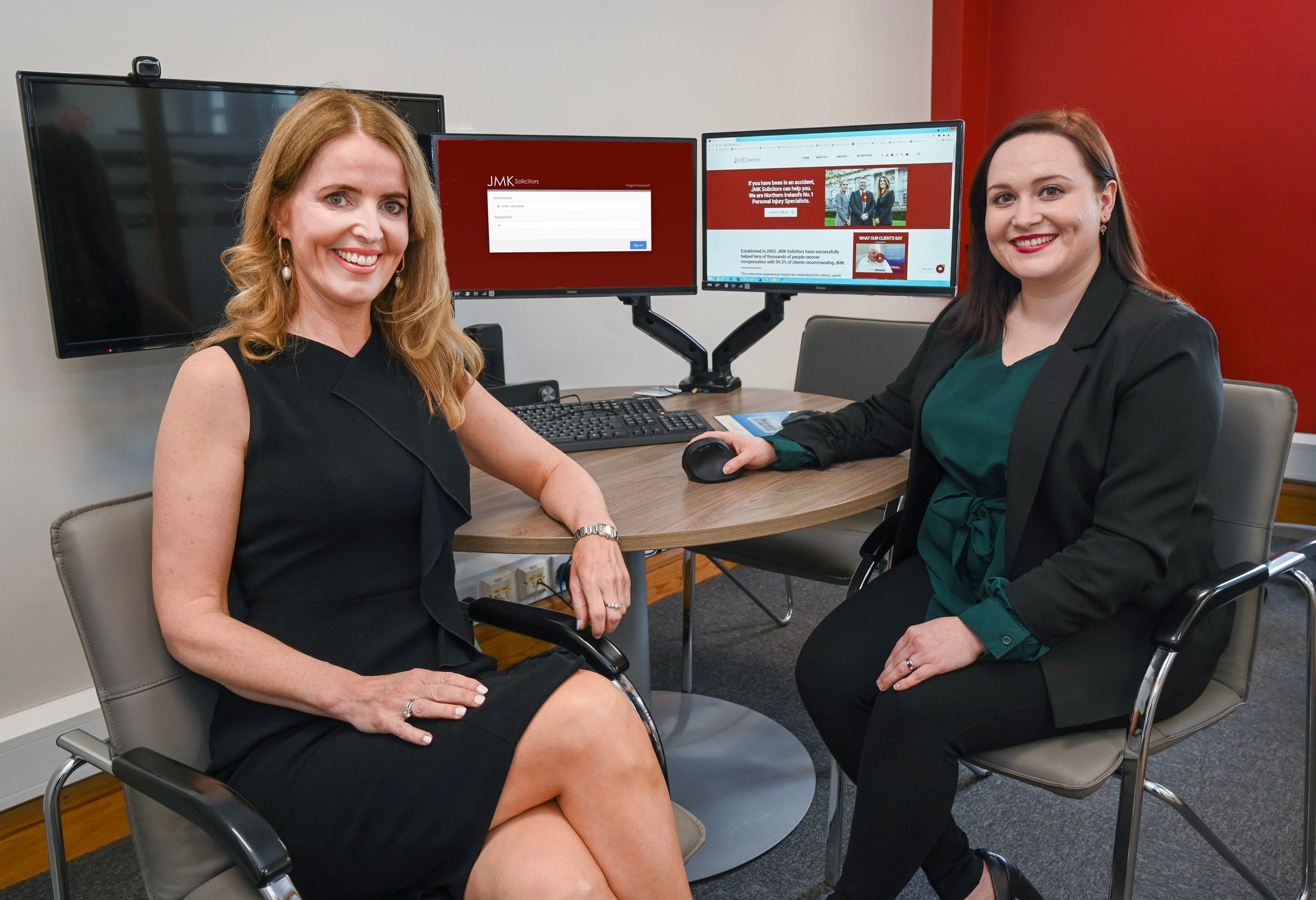 Northern Ireland's number one personal injury practice, JMK Solicitors, have revealed a successful new initiative with a major insurance law firm that will create greater efficiencies in the handling of litigation and also help to reduce the risks of data breaches in a move which has been hailed as a milestone in showing the positive developments that can arise from opponents working together to solve common problems.
'Innovation' is one of the core values at JMK Solicitors who have utilised a bespoke case management system for over a decade, with an internal Legal Technology Team dedicated to continuous development and improvements to their workflow.
Cate McQuade, Head of Legal Technology at JMK says, "At JMK we are committed to continuously embracing innovation in technology and in finding innovatory solutions for our clients. We strive to work ever more efficiently to provide the best possible service and obtain the best outcome for our clients and our business. Innovation is therefore one of the six core values the firm aspires to. Really since installing a new client case management system over a decade ago we have had to learn new skills that were not those of a traditional law firm. I am delighted to be leading a team that puts client care and technology together to achieve better outcomes for everyone."
Following the implementation of GDPR and the 2018 Data Protection Act coming into effect, JMK's in-house team developed a secure document sharing portal, essentially a point of entry to the firm's case management system, onto which staff could upload certain bulky and sensitive documentation, in many cases medical notes and records or reports. It has been used by the firm to share encrypted information with medical consultants, barristers, expert witnesses, interpreters, and most recently, insurance company solicitor firms.
"During the pandemic, the portal became an even more important communication tool for the business." Cate continued; "The biggest benefit to using the JMK portal is that we have reduced common data protection risks and inefficiencies with email communication. These include no longer having to manually apply passwords to sensitive attachments or deal with document corruption or attachment size restrictions which often apply with email providers.
Of the 2,425 data security incidents reported to the Information Commissioner's Office in the last three months of 2020/21, 443 were emails sent to the wrong recipients. Our portal helps to reduce the risk associated with misaddressed emails, intercepted emails, or human error, thus protecting our clients and reducing admin time."
Maurece Hutchinson, Managing Director of JMK Solicitors added; "Our latest development allows us to securely share medical evidence, GP and hospital notes and records and Court bundles with the Solicitors acting for the other party. We've been able to export a link to the document directly from our case management system to our secure portal. From there, the document can then be viewed, downloaded, printed or brought into the other party's own case management system as required.
We are not aware of any other firm in Northern Ireland being as proactive as we are in bringing such innovative solutions to the market and we are so very proud of what Cate and our Legal Technology team have achieved with our professional colleagues in insurance legal practices. We feel sure that our opponents will benefit significantly from the changes we are introducing."
JMK Solicitors successfully tested the portal with a major insurance company law firm, and the intention is to roll out the portal access to other firms over the coming weeks, with the hope that further improvements in litigation processes can also be developed and implemented.
JMK Solicitors are Northern Ireland's Number 1 Personal Injury Specialists. With a team of over 100 people including a team of personal injury solicitors, we assist clients all over Northern Ireland. If you have suffered a personal injury, been in a road traffic accident, had an accident at work, or suffered a medical accident, contact our team for a free consultation.
Call us today on 028 9032 0222 or email us law@jmksolicitors.com