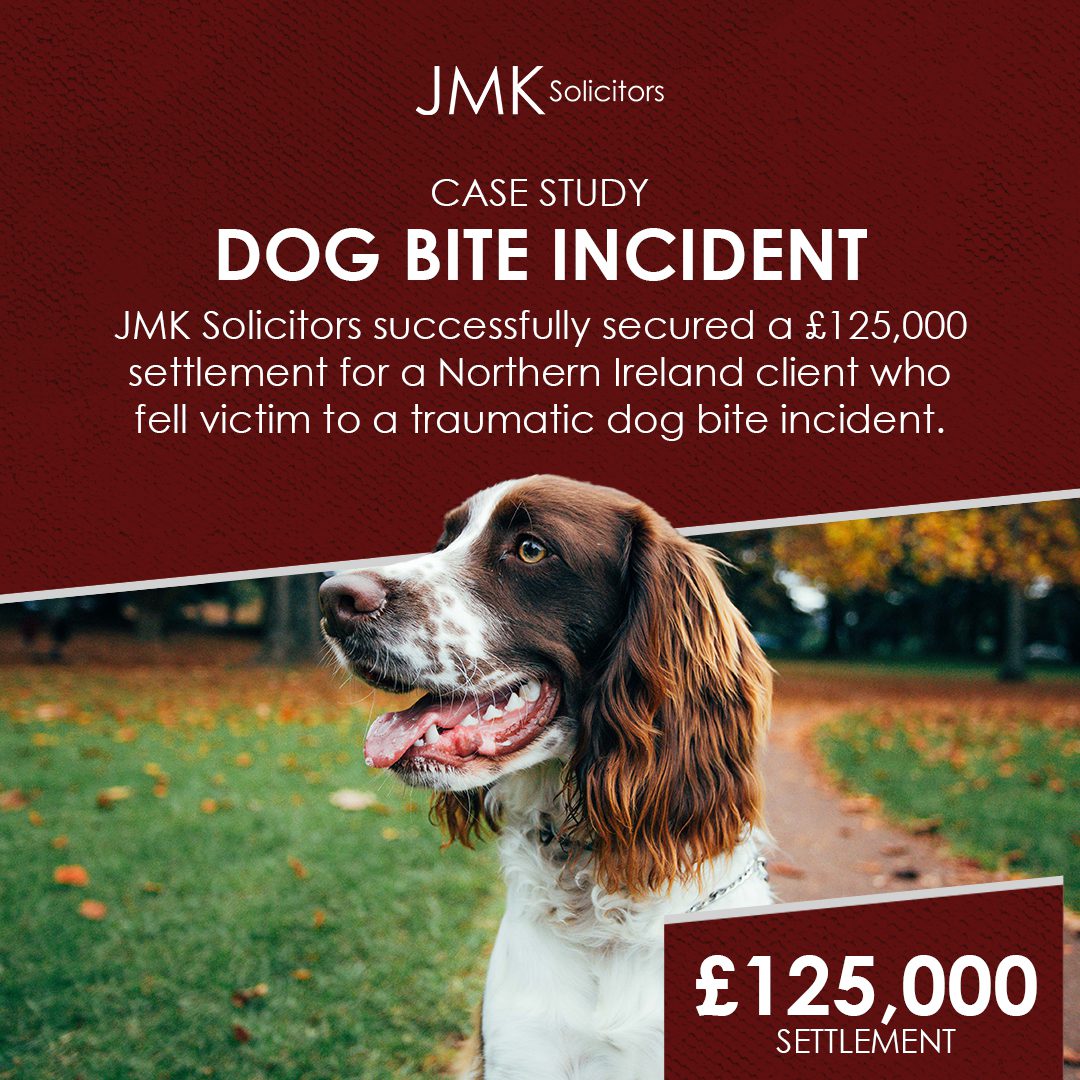 Dog bite incidents appear to be on the rise as we have seen an increase throughout the world and Northern Ireland appears to be no different.  This trend may be as a result of unsocialised 'pandemic puppies'  warns JMK Solicitors who have seen a doubling of the number of clients suffering sometimes life-changing injuries from such attacks.
In a recent legal victory, JMK Solicitors successfully secured a £125,000 settlement for a Northern Ireland client who fell victim to a traumatic dog bite incident. This case serves as a stark reminder of the dangers of 'man's best friend' and should give us all reason to be careful when interacting with a dog when out in public. It is of course also important to know your rights and seek legal assistance when necessary.
Our client was enjoying a meal with friends and family at a local restaurant. Upon returning from the restroom, they noticed a fellow customer at a nearby table with a Spaniel dog tucked underneath. Being a dog lover, with two pets of their own at home, they decided to strike up a friendly conversation with the dog-owner and then bent down to greet the dog.
However, what should have been a pleasant interaction turned into a nightmare as the dog suddenly attacked their face. Surprisingly the manager of the premises played down the severity of the incident and asked the victim and their family to leave.  The dog's owner then left without providing any contact information, leaving our client in significant pain, distress and confusion.
Our client went to their local A&E department for immediate care where they were admitted overnight and later underwent surgery.
The extent of the injuries was alarming, requiring them to attend weekly outpatient visits for wound care. The injuries included a puncture wound to the nose, an infection developed in a cheek wound, and conjunctivitis. Beyond the physical agony, they also endured substantial emotional trauma throughout this harrowing experience.
Thanks to the support we provided at JMK and our relentless efforts of working with the dog warden, and securing CCTV footage capturing the attack, the dog owner was identified and held accountable. As a result of which we were able to ensure our client was awarded a £125,000 settlement for their distressing injuries pain and suffering.
Takeaways and Recommendations
This case highlights the importance of being aware of the current risk that dogs are not as well-mannered as might have been expected prior to the pandemic. You cannot assume that all dogs will be used to dealing with either familiar let alone unfamiliar people. Whilst seeking urgent medical assistance should the worst happen should be your initial concern, we hope it is reassuring to know that gathering essential information when you've been attacked by a dog can still be done afterwards. Knowing the dog owner's name and address, as well as verifying whether they have pet or home insurance, can significantly impact your ability to seek compensation for your injuries. This is all something that we at JMK can assist with so that you can recover with one less thing to worry about.
Our personal injury claim experts can help you too.
JMK Solicitors is proud to have represented our client in this distressing dog bite case. We stand as Northern Ireland's No. 1 Personal Injury Specialists, committed to ensuring that individuals receive the justice and compensation they deserve when faced with such unfortunate incidents. If you've experienced a similar situation, don't hesitate to reach out to us for expert legal assistance. Your rights matter, and we are here to help you protect them.
If you have suffered a personal injury call JMK Solicitors on 028 9032 0222 to arrange a free consultation, or fill in our free enquiry form online; we'll give you our honest and expert opinion on what we think your claim is worth.
JMK Solicitors are Northern Ireland's Number 1 Personal Injury Specialists. With a team of over 100 people including 42 solicitors, we assist clients all over Northern Ireland. If you have suffered a personal injury, been in a road traffic accident, had an accident at work or suffered a medical accident, contact our team for a free consultation.
Call us today on 028 9032 0222 or email us law@jmksolicitors.com