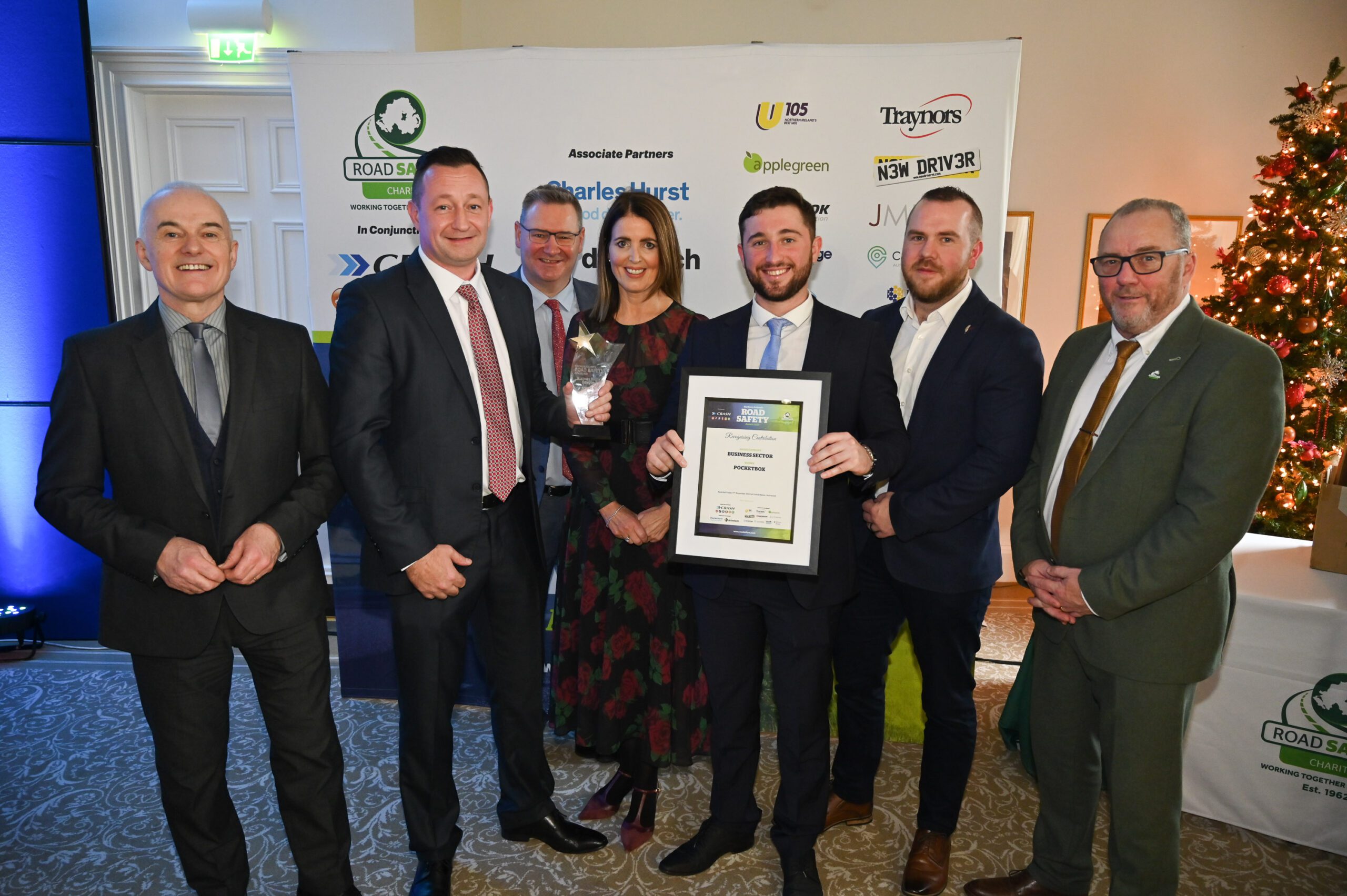 JMK Solicitors were delighted to sponsor the Business Category at the 2023 Northern Ireland Road Safety Awards held during road safety week.
The Northern Ireland Road Safety Awards, now in their ninth year, are organised by Road Safe NI in conjunction with NI's largest accident management company, CRASH Services.
Northern Ireland's road safety champions were officially recognised for their contribution to helping improve road safety in their communities. The winners at Northern Ireland's Road Safety Awards 2023 included individuals, organisations, and special projects from across the voluntary, education, emergency service, public and business sectors.
A total of 14 awards were presented at a lunchtime event attended by more than 100 specially invited guests to the Cultra Manor, Holywood. Winning the prestigious Lifetime Achievement Award was Chief Inspector Graham Dodds from PSNI Road Policing unit. He collected his award from Lynda Hurley from DFI and Frank Mitchell of U105.
Davy Jackson Chair of  Road Safe NI said "We had a fantastic response to the awards again, with a record number of entries. We are delighted to play our part in recognising those who go the extra mile to promote road safety.
The winning entries really stood out for their commitment over a long period of time and for delivering innovative projects. There is so much good work going on across our schools, local communities, emergency services and businesses.  The award winners are an inspiration to others, and they is no question their efforts are saving lives on the road." he added.
"We would like to say thanks, to a fantastic group of sponsors who made these awards possible."
Maurece Hutchinson, Managing Director of JMK Solicitors commented, "As NI's Number 1 Personal Injury Solicitors, we are delighted to continue supporting the Road Safety awards which recognise the contribution of individuals and organisations who have worked hard to improve road safety across NI.
Congratulations to all the nominees and all today's winners including the Business Category winner, Pocketbox Ltd, for your dedicated and ongoing commitment to road safety throughout the year."

2023 Northern Ireland Road Safety Award winners
Primary School Category: Mrs Siobhan Gillen – Sponsored by Traynors 
School Crossing Person Category: Mr Sean Lynne – Sponsored by U105
Post Primary School Category: Reuben Conor – Sponsored by New Driver NI
Driving Instructor Category: Jason Robb – Sponsored by Drivetech
Emergency Services Category: John Amos NIAS – Sponsored by Riverridge
Voluntary Sector Category: Karen Speers – Sponsored by Hankook Tyres
LGV Category: Thomas Cupples – Sponsored by Cameramatics 
Business Category: Pocketbox Ltd  – Sponsored by JMK Solicitors
Public Sector: Operation Close Pass – Sponsored by Applegreen NI 
Open Category: Breaker Breaker Charity – Sponsored by CRASH Services
Two Wheels Category: Cornerstone Off Road Motorcycle Academy – Sponsored by Charles Hurst 
Young Driver Category: Sadhbh Convery – Sponsored by Charles Hurst 
Transport Manager Category: Conor King – Sponsored by NI Road Safety Partnership
Lifetime Achievement: Chief Inspector Graham Dodds P.S.N.I – Sponsored by DFI
---
Contact NI's number 1 personal injury experts
JMK Solicitors are Northern Ireland's Number 1 Personal Injury Specialists. With a team of over 100 people including a team of personal injury solicitors, we assist clients all over Northern Ireland. If you have suffered a personal injury, been in a road traffic accident, had an accident at work or suffered a medical accident, contact our team for a free consultation.
Call us today on 028 9032 0222 or email us law@jmksolicitors.com