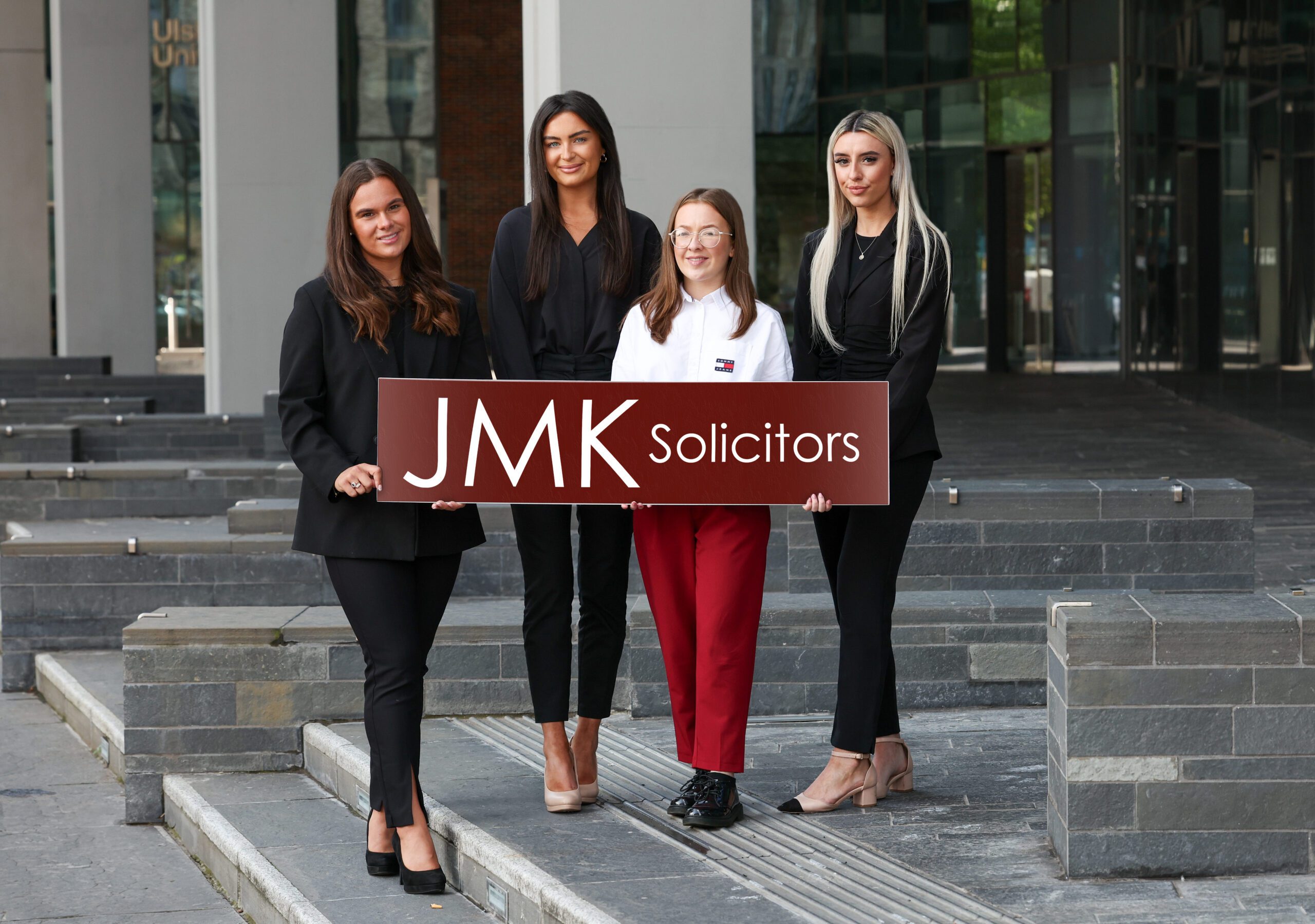 Leading NI Personal Injury Solicitors Continue to Invest in the Future.
JMK Solicitors, Northern Ireland's number 1 personal injury specialists, proudly announces the addition of four new graduates to its growing team. This strategic expansion not only reinforces the firm's commitment to excellence but also underlines its dedication to nurturing legal talent and inspiring the next generation of legal professionals.
JMK Solicitors has earned its reputation as Northern Ireland's number one personal injury for the ninth consecutive year, with an unyielding dedication to providing exceptional legal services. With this latest recruitment initiative, the firm continues to solidify its position while simultaneously contributing to the professional development of the region's brightest graduates.
Each of the four new graduates brings a unique skill set and fresh perspective to the firm. By providing them with the opportunity to work alongside experienced professionals,
"We believe in the power of education and are dedicated to providing a supportive environment where legal minds can flourish," said Maurece Hutchinson, Managing Director at JMK Solicitors. "Our new graduates represent the potential and promise of the legal field, and we are excited to guide them on their journey towards becoming skilled and compassionate solicitors. We welcome Helen Brown, Aoife Killackey, Hannah Mayes and Niamh Ward to our team".
JMK Solicitors' commitment to educating the future extends beyond its own walls. Solicitor Susan Morrison, who has been a Tutor at the Institute of Professional Legal Studies (IPLS) at Queens University Belfast for 15 years, is a shining example of this dedication. At the IPLS, she provides invaluable training to Apprentice Solicitor and Barrister Trainees, helping them qualify for their respective professions. Notably, Susan currently holds the position of Senior Tutor for Civil Litigation, where she plays a pivotal role in designing and delivering the course that shapes the Solicitors and Barristers of the future. Furthermore, Solicitor Gerry Casey has also contributed his expertise by providing tutoring at the IPLS, solidifying JMK Solicitors' commitment to nurturing the legal talents of tomorrow.
Additionally, Solicitor Carmel Ross, is a member of the law faculty at Queens University Belfast as a Teaching Assistant in Tort (Civil Law) for the law degree undergraduates. By engaging with legal people through teaching, JMK Solicitors strives to inspire a new generation to pursue careers in law and make a positive impact on society.
As Northern Ireland's number one personal injury solicitors, JMK Solicitors recognises that excellence is achieved not only through experience but by cultivating the potential of those just beginning their legal careers. By welcoming these four new graduates, the firm continues to shape the landscape of the legal industry, ensuring a bright and promising future for all involved.
JMK Solicitors are Northern Ireland's Number 1 Personal Injury Specialists. With a team of over 100 people including a team of personal injury solicitors, we assist clients all over Northern Ireland. If you have suffered a personal injury, been in a road traffic accident, had an accident at work, or suffered a medical accident, contact our team for a free consultation.
Call us today on 028 9032 0222 or email us law@jmksolicitors.com