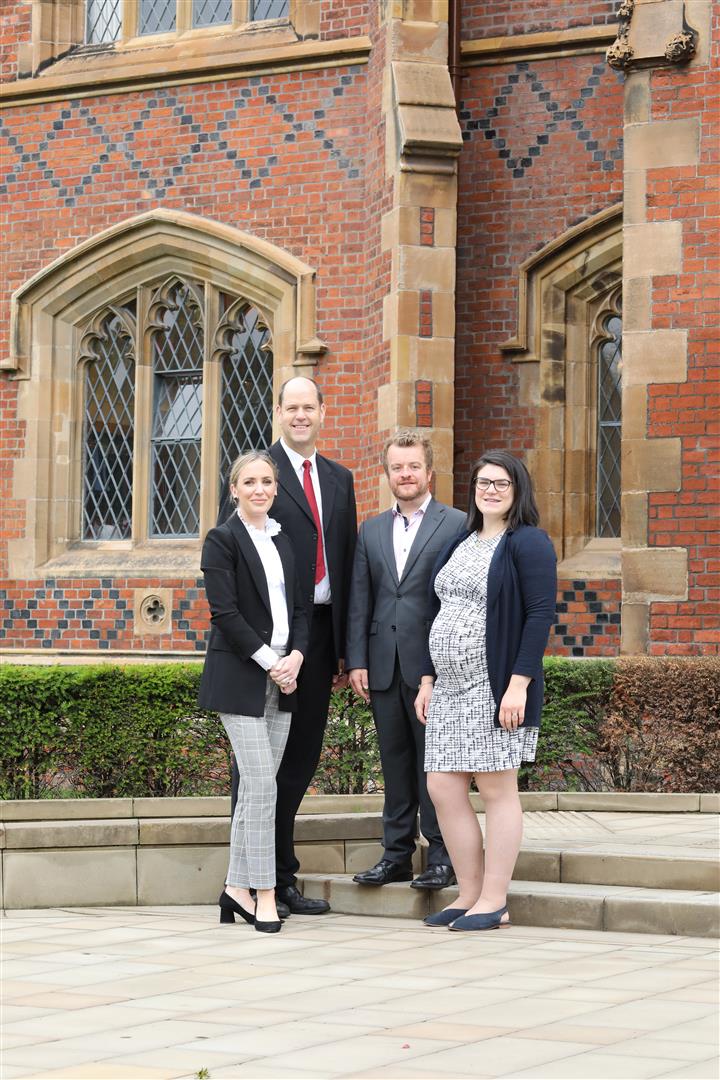 Pictured L-R: Olivia Meehan (Legal Services Director, JMK Solicitors), Ted Jensen (Outreach Officer, Widening Participation Unit at Queen's), Professor Robin Hickey (Head of School of Law at Queen's), Sorcha Mac Laimhin (Development Manager, Development & Alumni Relations Office at Queen's).
JMK Solicitors, Northern Ireland's leading Personal Injury and Road Traffic accident law firm, have launched a student prize in conjunction with Queen's University, Belfast to run over the next 3 years.
Olivia Meehan, Legal Services Director at JMK, said, "We are delighted to be working with Queens University Belfast. We are keen to recognise and reward the efforts of the next generation of lawyers and are so pleased to pledge a £3,000 prize to the student who achieves the highest mark in the Torts module and meets the widening access criteria set by the University. We will be offering this prize for the next three academic years starting in September 2019.
Queen's University Belfast is a leading UK Law School with a long established reputation for producing highly educated and skilled law graduates. Several of our team at JMK have gained qualifications at the University. We think it is important to support the work of Queen's and those students who go the extra mile."
In thanking JMK Solicitors for their support, Head of the School of Law Professor Robin Hickey said: "We are deeply indebted to JMK Solicitors for this most generous student prize, which has been specifically earmarked for a top individual meeting the widening access criteria set by the University.
This highlights the importance of encouraging Widening Participation students not only to enter higher education, but to continue their studies once they have enrolled at Queen's. Support such as the JMK Solicitors Prize is a great example of this."
The widening access programme aims to support students who have the ability to succeed in higher education, irrespective of socio-economic background; disability; ethnicity; political opinion; gender; marital status; sexual orientation; or age.
JMK Solicitors was established in 2003 and has grown to become Northern Ireland's No.1 Personal Injury Firm.  The firm has handled more injury claims than any other NI Solicitor for each of the last five years.  They are renowned for being innovative in the legal sector having invested heavily in staff development, IT and marketing.  JMK Solicitors also raises funds for charities chosen by their team each year.
---
JMK Solicitors are Northern Ireland's Number 1 Personal Injury Specialists. With a team of over 100 people including a team of personal injury solicitors, we assist clients all over Northern Ireland. If you have suffered a personal injury, been in a road traffic accident, had an accident at work, or suffered a medical accident, contact our team for a free consultation.
Call us today on 028 9032 0222 or email us law@jmksolicitors.com