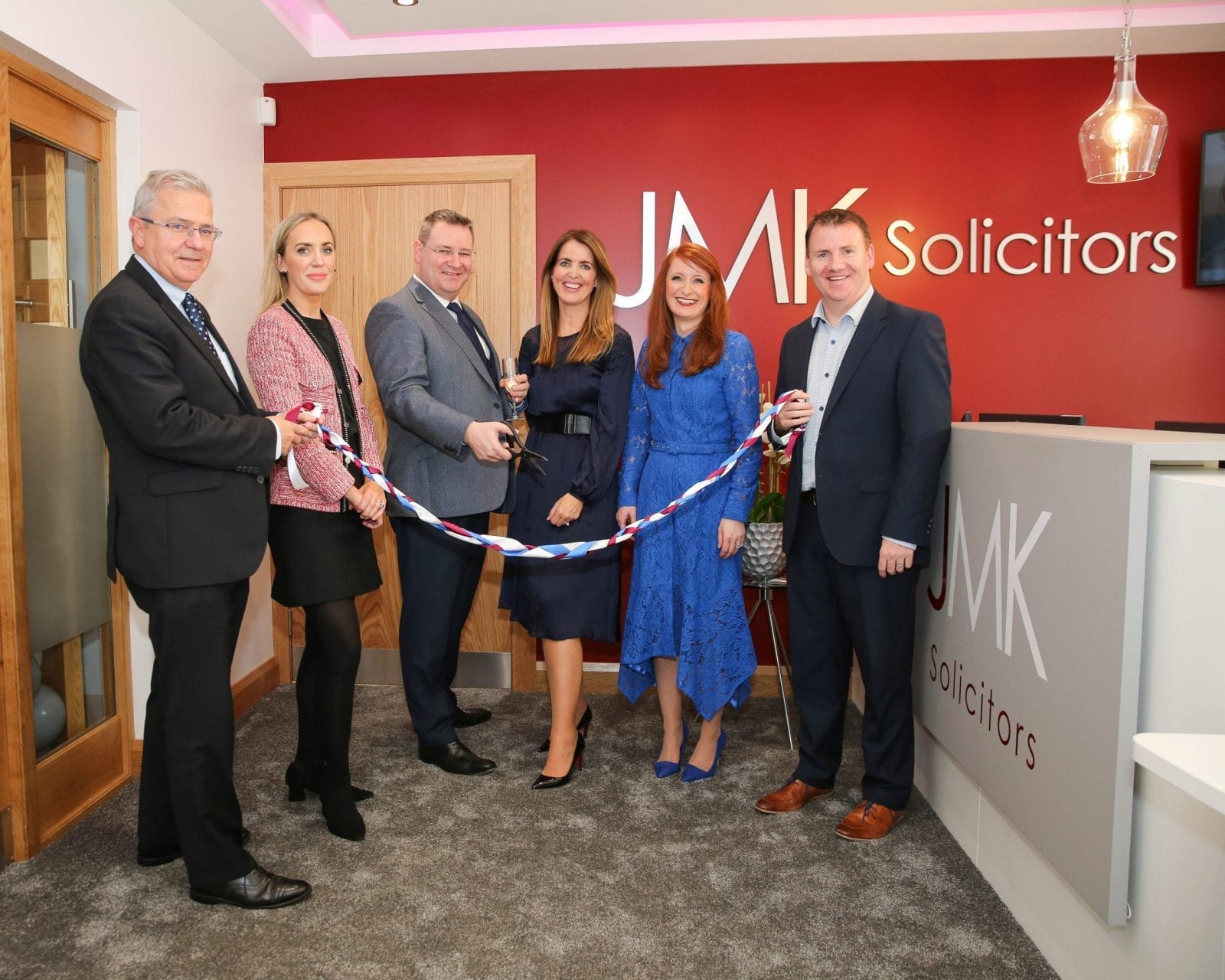 Pictured L-R: Colm Shannon, CEO Newry Chamber of Commerce, Olivia Meehan, Legal Services Director JMK Solicitors, Jonathan McKeown, Chairman JMK Solicitors, Maurece Hutchinson, Managing Director JMK Solicitors, Sinead McAllister, Finance Director CRASH Services and Tony McKeown, Sales and Marketing Director CRASH Services
JMK Solicitors, Northern Ireland's leading personal injury and road traffic law firm, has acquired its Newry Office following a £1.7m investment which has seen the firm doubling its current workspace in the city.
The purchase of Canal House, a five story building located on St. Mary's Street, is one of the largest commercial property deals in the region this year. The transaction was supported by Danske Bank. The overall investment includes the refurbishment of the existing JMK floor and the fit out of an additional floor which provides a new reception area, client consultation rooms and staff catering, training and relaxation facility.
Maurece Hutchinson, Managing Director of JMK Solicitors, commented "We are delighted to be announcing this investment which will allow for further expansion of our business. We have been renting a floor of Canal House since 2014 but had outgrown this space due to increased staffing levels. We wanted to remain in Canal House and were given an opportunity to purchase the building.
We have already completely fitted out an extra floor to an exceptionally high specification. We feel it is important to provide the best working environment for our team. This will us helps both retain and attract staff".
JMK, who also have offices in Belfast and service clients from all over Northern Ireland, have experienced significant growth over recent years due to their strategic decision to focus solely on personal injury and road traffic accident cases. Cases handled and staffing levels have more than doubled over the last 5 years with now over 75 team members.
JMK have held the position as the leading personal injury law firm in NI for five consecutive years, handling more cases locally than any other legal firm. The progressive company has also invested heavily in staff recruitment and training, brand awareness and technology in recent years.
Maurece concluded "Personal injury and road traffic law can be very complex. However due our complete focus in this area our staff have built up significant specialist skills and knowledge in this area of law. Our aim is to proudly improve the lives of our clients following traumatic events, achieving the best possible outcome, with the least stress. We are immensely proud that 99% our clients would recommend JMK to a friend".
---
JMK Solicitors are Northern Ireland's Number 1 Personal Injury Specialists. With a team of over 100 people including a team of personal injury solicitors, we assist clients all over Northern Ireland. If you have suffered a personal injury, been in a road traffic accident, had an accident at work, or suffered a medical accident, contact our team for a free consultation.
Call us today on 028 9032 0222 or email us law@jmksolicitors.com