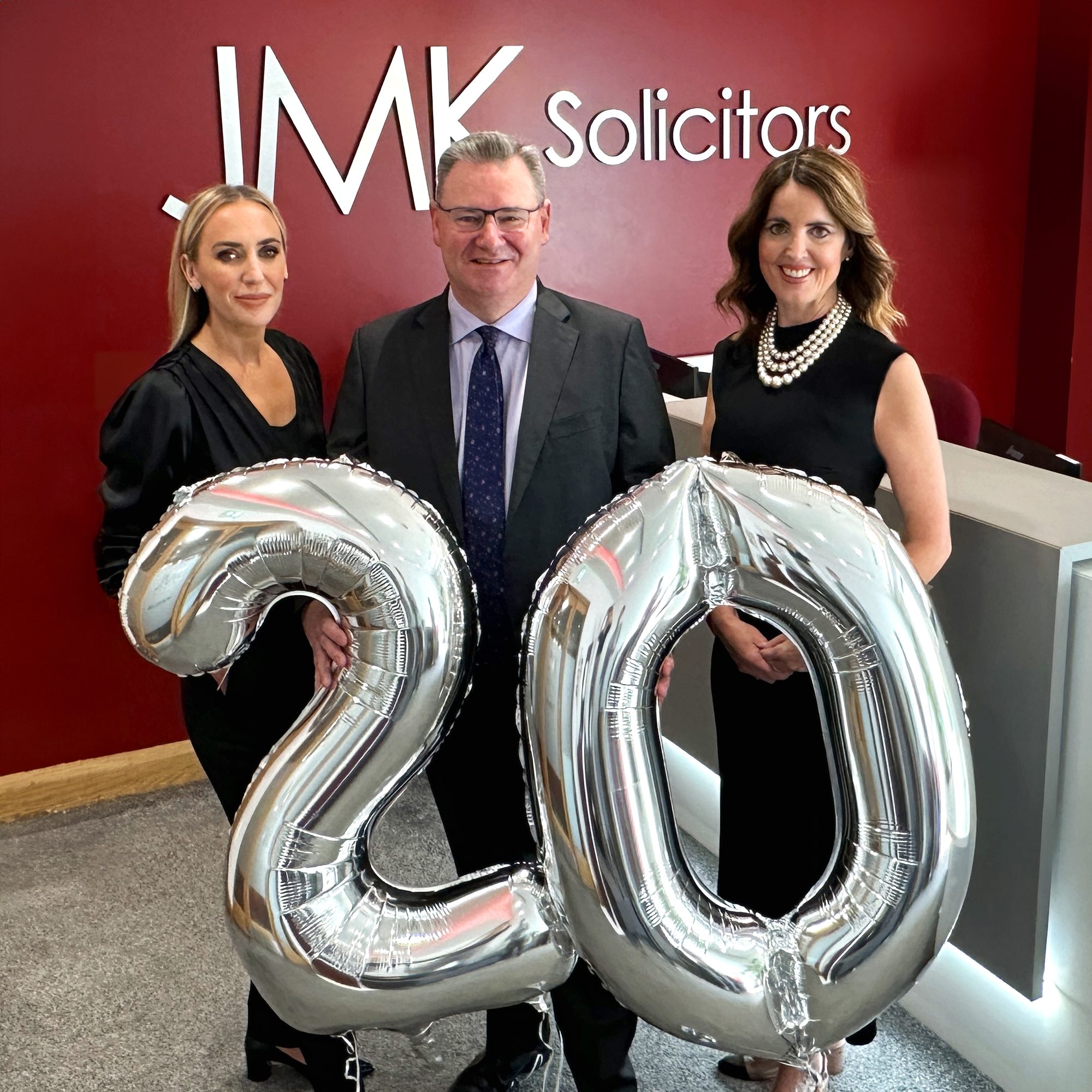 Leading the way as Northern Ireland's Number 1 Personal Injury and Road Traffic Accident firm, JMK Solicitors is delighted to commemorate a considerable milestone of 20 years in business this October.
JMK Solicitors was established in 2003 by Newry based businessman Jonathan McKeown, with the day-to-day running of the firm led by Managing Director, Maurece Hutchinson and Legal Services Director, Olivia Meehan. Since 2014, JMK Solicitors have been Northern Ireland's top personal injury solicitors, surpassing all other providers in the province in terms of the number of clients who are served by the practice.
As part of their continued growth, JMK recently opened an office in West Belfast to add to the Newry, Belfast City Centre, and Derry~Londonderry offices. With an exceptional team of over 100 people including over 40 highly experienced legal advisors, JMK Solicitors has been providing invaluable assistance to clients across Northern Ireland who have suffered personal injuries and other losses in many different situations such as incidents at work or in a public place and of course on the road whether that be as a vehicle user, pedestrian or cyclist; helping them recover the compensation they deserve.
Expressing gratitude towards her exceptional team, Maurece Hutchinson, Managing Director at JMK Solicitors, remarked, "Our firm's success is a testament to the unwavering commitment, diligence, and professionalism of our solicitors, legal advisors and administration staff, who consistently go above and beyond to assist our clients. They are of course supported by our Operations, IT and Marketing teams without whom we wouldn't be able to provide the high levels of client care we want to provide to all who need our help. We remain steadfast in our commitment to ensuring that our clients recover their losses with minimal stress during the legal process. Our client surveys continually demonstrate that an impressive 99% of our clients would confidently recommend us to their friends and family."
Legal Services Director, Olivia Meehan added "We take great pride in being recognised as Northern Ireland's most sought-after personal injury firm since 2014. Additionally, we have maintained the prestigious Lexcel quality mark for six consecutive years, with flawless annual reviews, which attests to our standing as a respected and reputable firm that consistently exceeds recognised industry standards."
Reflecting on the last two decades, Jonathan McKeown, Chairman of JMK Solicitors stated "I could not have imagined that the practice that I started on 20th October 2003 in Newry would expand to have four offices across the country and be so highly regarded. Whilst I of course have to thank my fellow directors Maurece Hutchinson and Olivia Meehan; I also have to thank Fiona McNulty for her steadfast support to all three of us over the last twenty years. There are many other unsung heroes who are deserving of recognition, and I will hopefully get to personally express that to them over the coming days. Overall though the firm would not be what it is without the incredible clients we look after. Some of them have been put in truly horrendous situations through no-fault of their own and our solicitors are extremely proud of the positive impact we can make on their lives."