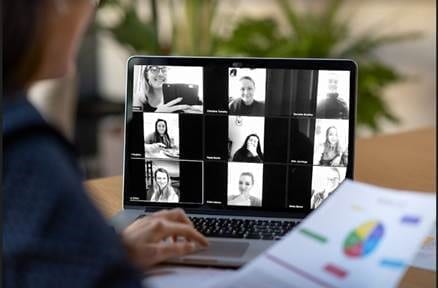 Whilst many firms are struggling with the adjustment to remote working due to the COVID-19 pandemic, the team at JMK Solicitors took it in their stride as flexible and remote working has been the norm for some time.
Prior to the pandemic, all members of the team could avail of flexible hours and were provided with the same technology as would be available to them at their office desk (to include dual screens) for their home 'office' for seamless remote working. Our ethos is to have the team benefit from this flexibility, to ensure when they are working, it is both a productive and enjoyable experience.
Indeed in 2017, JMK set themselves a goal of proving that remote working could be as effective as working in the office. For the month of February 2017, the workforce was able to relocate to Lanzarote, with an overwhelmingly positive result. This proved the firm were well equipped to work away from the office while maintaining their productivity and a high level of client service, even in a different country. This project has helped the team enormously in the current pandemic and ensured everyone transitioned to working from home without any additional set up or stress. We were able to simply notify the whole team after the government announcement in mid-March to work from home and the next day we were progressing our clients cases as normal.
We wanted to ensure compliance with the Stay Safe and Stay home message so JMK's office buildings are currently closed to the public, but we are still taking all steps to remain productive and effective for our clients. We have been utilising secure technology to ensure as little disruption as possible to our normal service. We have moved several meetings online, with our Legal Advisors holding consultations with clients and barristers using video conferencing with great success.
Senior Solicitor Una O'Neill commented, "I have found video conference calls so helpful in assisting with the progression of clients' cases during this challenging time. I have had video calls with clients and their barristers as well as with foreign speaking clients and translators in order to discuss medical reports, settlement offers and generally obtaining updated instructions. Clients have remarked that they find this 'face to face' contact, (albeit virtual!) much better than a telephone call for staying in touch, being kept updated, and easing progression of their case."
We also have a pioneering approach to file management, allowing us to operate remotely with ease as we have entirely paperless client files, utilising bespoke case management software. It provides automated reminders, document production at the click of a button and secure online portals helping to continually make clients the number one priority.
Maurece Hutchinson, Managing Director of JMK Solicitors said, "As our team were experienced in working remotely and even working in a different country when the COVID-19 pandemic hit we were able to make a quick adjustment to the way we operate, ensuring as little interruption as possible to our services provided to our clients. While our office buildings may be closed to ensure the safety of our clients and team, JMK Solicitors are still open for business and available to help."
We wish to assure you of our ongoing commitment to client service during this time.
JMK Solicitors are Northern Ireland's Number 1 Personal Injury Specialists. With a team of over 100 people including a team of personal injury solicitors, we assist clients all over Northern Ireland. If you have suffered a personal injury, been in a road traffic accident, had an accident at work, or suffered a medical accident, contact our team for a free consultation.
Call us today on 028 9032 0222 or email us law@jmksolicitors.com