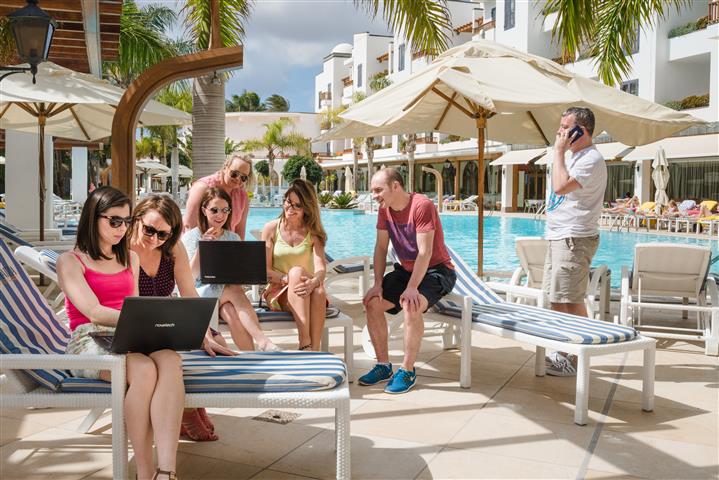 JMK Solicitors are Northern Ireland's leading Personal Injury firm and we take great pride in looking after our customers following an accident.  To achieve this we look after our staff too and have implemented a number of flexible working ideas to achieve the optimum work life balance.
We want our team to have the benefit of as much down time as possible so that when they are working it becomes a more enjoyable and productive experience.
Now just under 50% of our team at JMK work non-standard hours.  Some are part time, some full time, but work longer but fewer days.
In 2016 we set ourselves with the goal of proving that remote working can be as effective as working in the office and it can be coupled with a well-deserved team reward! So with a lot of hard work from the team, we managed to relocate our workforce to Lanzarote for the best part of a month. The result was overwhelmingly positive for the team.
The feedback following this project was that working both flexible hours and remotely meant they were more productive and had more time to spend with family, friends and on leisure activities.
As a result, we have provided working from home equipment to our 60 strong workforce, everyone at JMK now has the tools they need to work from their home office. The benefit for the team is that flexibility. When the challenges of life get in the way, being able to work at home can be a great help. Also the peace and quiet of being able to escape the hustle and bustle of the busy office can be great when you need to concentrate on the detailed challenges of our work.
JMK aims to provide the best possible working conditions to motivate and retain our fantastic team.  It's a busy and challenging job there is no doubt but a motivated and happy workforce means we are able to focus on our clients and make their experience in the aftermath of a difficult time in their lives as good as it can possibly be.
If you like the sound of working life at JMK and you want to change the lives of people following an accident or personal injury then contact us at jobs@jmksolicitors.com.
JMK Solicitors are Northern Ireland's Number 1 Personal Injury Specialists. With a team of over 100 people including a team of personal injury solicitors, we assist clients all over Northern Ireland. If you have suffered a personal injury, been in a road traffic accident, had an accident at work, or suffered a medical accident, contact our team for a free consultation.
Call us today on 028 9032 0222 or email us law@jmksolicitors.com