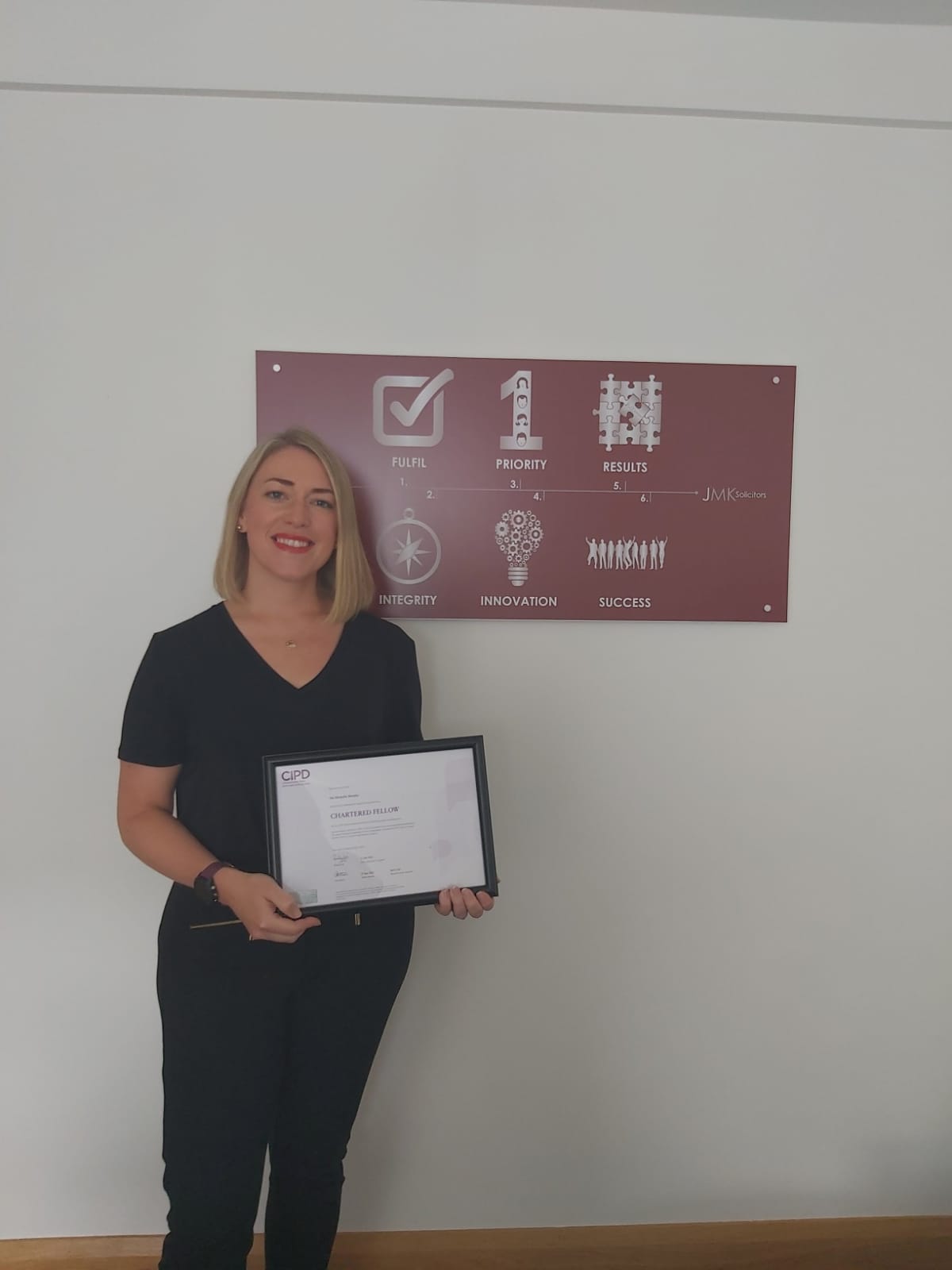 We are delighted and proud to be congratulating our Head of HR and Operations, Michelle Murphy on her recent achievement on becoming a Chartered Fellow of the CIPD, the professional body for HR and people development.
CIPD has been working to improve and develop personnel for over 100 years, gaining a royal charter in 2000.
Michelle joined JMK Solicitors and  CRASH Services in 2010 and has progressed to becoming the Head of HR and Operations with the businesses.
Michelle commented, "I am very fortunate to be able to work for a company who have invested in my career development and that of the wider team which has over the years benefitted the business greatly. It's my privilege to be able to focus on making JMK Solicitors and CRASH Services the best places to work, and to improve the working experience of my wonderful colleagues who work tirelessly to assist our clients in their time of need."
Michelle has been involved in providing training and mentoring to business leaders throughout Ireland and across a range of forums, discussing the innovative work practices she has helped introduce in JMK Solicitors & CRASH Services including our 4-day working week.
"This accreditation will assist me in sharing our message of innovation in the workplace and the importance of focusing on wellbeing and improving work-life balance throughout many industries and workplaces in the future."
If you would like to learn more about working at JMK Solicitors check out our careers page on our website or contact any of our HR team at hr@jmksolicitors.com.
---
JMK Solicitors are Northern Ireland's Number 1 Personal Injury Specialists. With a team of over 100 people including a team of personal injury solicitors, we assist clients all over Northern Ireland. If you have suffered a personal injury, been in a road traffic accident, had an accident at work or suffered a medical accident, contact our team for a free consultation.
Call us today on 028 9032 0222 or email us law@jmksolicitors.com
© Copyright JMK Solicitors [2022]. All rights reserved.