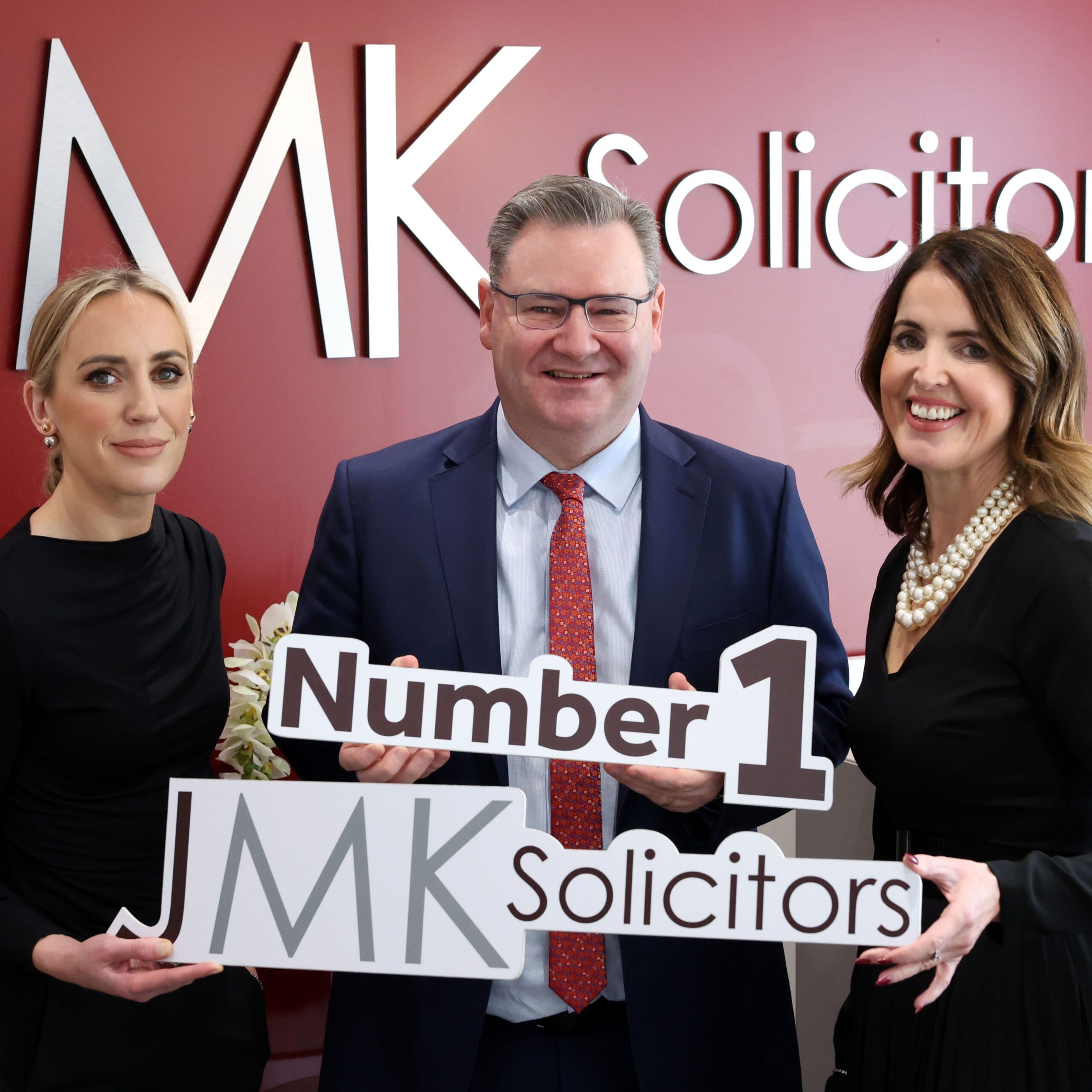 JMK Solicitors has retained their position as Northern Ireland's Number 1 personal injury firm, marking their ninth consecutive year in the prestigious spot. According to recent figures obtained from the Compensation Recovery Unit, a division of the Department for Communities, JMK were instructed in 1,512 cases last year – more than double the number of clients compared to the next solicitors practice providing personal injury claims services. These measures appear to show the recognition by the innocent victims of accidents that JMK Solicitors are committed to achieving the best outcome for their clients.
As part of their growth across the province, JMK have offices in Newry, Derry~Londonderry and Belfast with a fourth office opening in the capital in April 2023 to enhance their offering of a superior local service. Their long-term investment in technology means they are also able to provide services remotely to clients in any part of Northern Ireland.
Managing Director, Maurece Hutchinson, said "We pride ourselves in putting our clients first and we strive to do our absolute best for them, which is also reflected in our 99% client recommendation rate. Our status as the number 1 personal injury law firm for the ninth consecutive year is a direct result of our dedication to client care, our staff go above and beyond for our clients, ensuring that our Core Values are part of all our processes and that we achieve the best possible outcome for those who have instructed us to resolve their case."
The practice is accredited by the Association of Personal Injury Lawyers (APIL), the UK-wide association fighting for the rights of injured people for over 25 years and has grown to become the leading, most respected organisation in this field. The JMK team includes Andrew Moore, Sinead Toal and Una O'Neill, who are accredited by APIL as Senior Litigators and Maurece Hutchinson who received the Fellow accreditation in 2019.
JMK Solicitors' commitment to their clients has also led to their seeking and attaining the Lexcel accreditation for the fifth consecutive year, a Quality Mark for the legal profession administered by the Law Society which recognises firms that achieve excellence in legal practice management and client care.
JMK's continuing efficiency improvements and focus on client satisfaction was highlighted in the Lexcel report with over 40% of clients now using the firm's bespoke JMK Client App and an upgrade with further improvements to be released in the coming months. The report also acknowledged the Chat Bot implemented on the JMK website to assist clients further in communicating with the office.
Maurece concluded, "As a specialist law firm operating solely in the area of personal injury claims and road traffic accidents, we will continue to make a significant investment in our team to ensure we maintain the high client care standard set by the Lexcel quality mark and accreditation. Along with our Number 1 status, the accreditation is a reassurance for our clients that they are dealing with a reputable firm that works above the recognised standards of excellence in legal practice and client care. At JMK we always place people at the heart of our business and strive to work hard to achieve the best outcome for our clients across NI."
JMK Solicitors are Northern Ireland's Number 1 Personal Injury Specialists. With a team of over 100 people including a team of personal injury experts, we assist clients all over Northern Ireland. If you have suffered a personal injury, been in a road traffic accident, had an accident at work or suffered a medical accident, contact our team for a free consultation.
Call us today on 028 9032 0222 or email us law@jmksolicitors.com