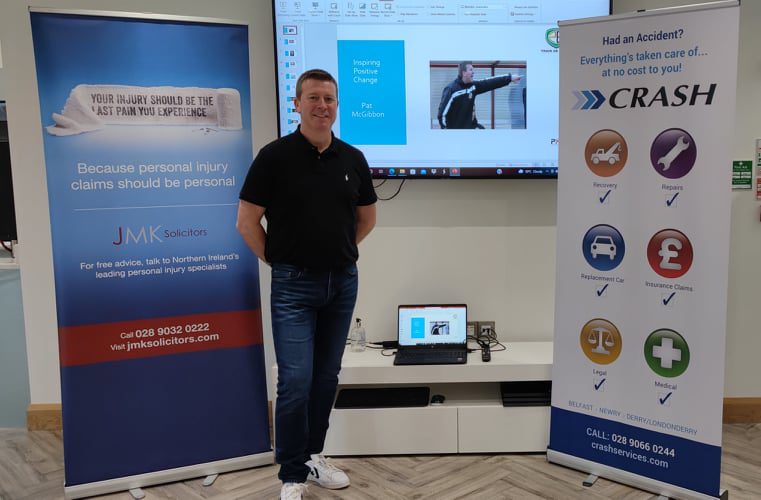 The team at JMK Solicitors have recently been availing of the expertise of Mental Health and Wellbeing Coach, Pat McGibbon. Over a number of weeks, Pat has been providing a number of insights around the themes of; enthusiasm, highlighting strengths, encouragement, motivation, and improving confidence.
Pat is a former professional footballer with Manchester United, Wigan Athletic, and Northern Ireland, who qualified as a Physiotherapist in 2002 and as a Pro licence coach since 2013. He provides his staff team building and mentoring courses through his own company, PMG Health and Wellbeing Services. Having previously acted as an associate mentor and consultant to a range of schools, workplaces, sports clubs, and other organisations; Pat is very passionate about increasing mental health awareness, reducing the stigma, and promoting good mental health and well-being in high-performing teams who are often working under extreme pressure.
Jonathan McKeown, Chairman of JMK Solicitors and CEO of CRASH Services, commented; "The pandemic has negatively affected a great many people from all walks of life and made almost every aspect of our lives more difficult. We have a clear mission and vision in our business that helps to keep our people motivated despite what has happened, but in the era of the 'Great Resignation' we do not want to be complacent about ensuring that our colleagues are equipped with all of the necessary tools to ensure that they are able to keep the focus on working together to help all of our customers and clients in their time of need. Having known Pat for over 30 years I trust him to bring our first-class squad together for success in the post-pandemic era."
---
JMK Solicitors are Northern Ireland's Number 1 Personal Injury Specialists. With a team of over 100 people including a team of personal injury solicitors we assist clients all over Northern Ireland. If you have suffered a personal injury, been in a road traffic accident, had an accident at work or suffered a medical accident, contact our team for a free consultation.
Call us today on 028 9032 0222 or email us law@jmksolicitors.com