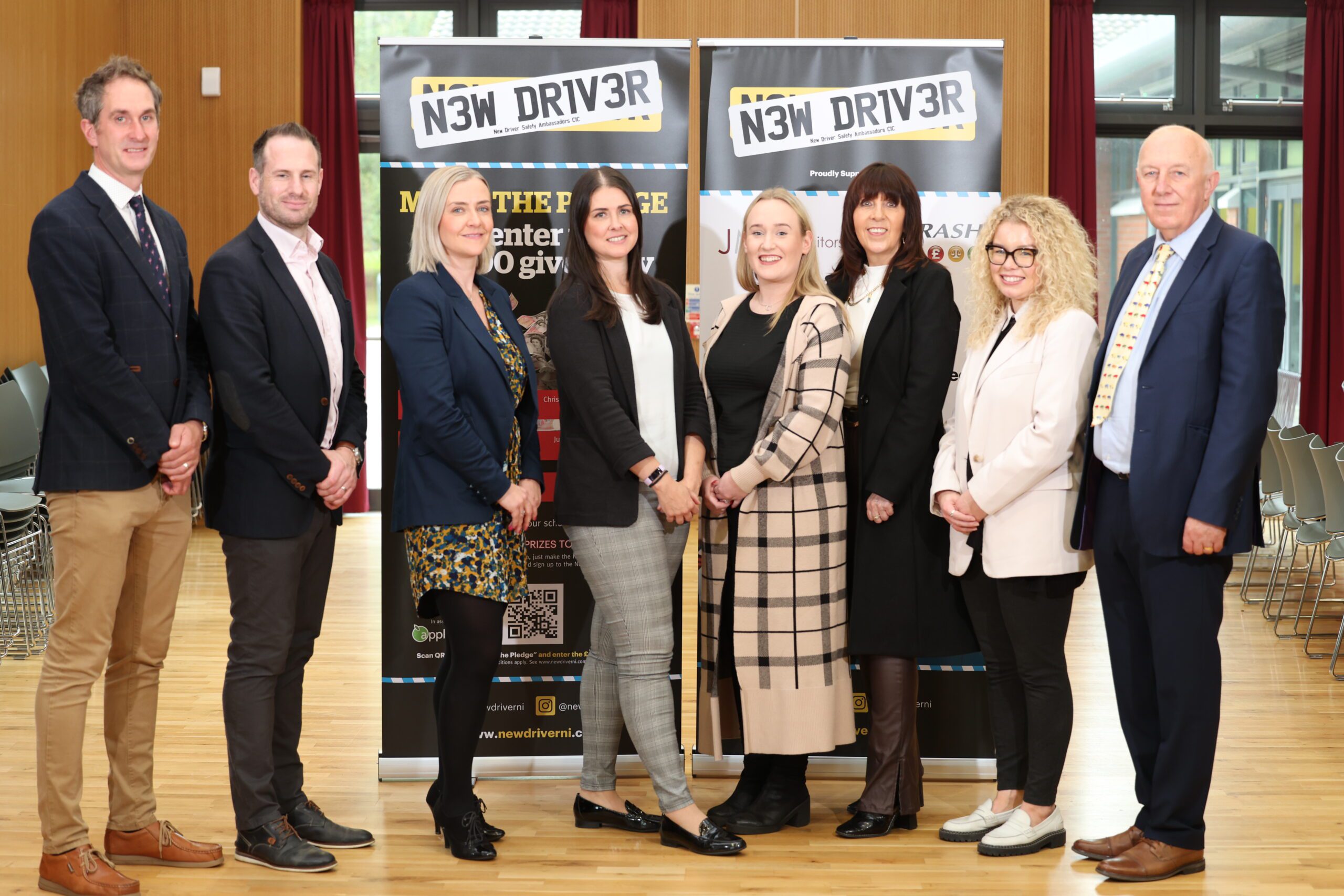 JMK Solicitors are once again delighted to be a corporate partner of New Driver Safety Ambassadors.
Each year, New Driver Safety Ambassador Limited visits students in schools to deliver a safe motoring presentation with the aim to educate all new drivers and passengers on making safe motoring decisions. All participants are also given a free New Driver NI magazine packed with everything from getting on the road to staying safe once there and they have a chance of winning up to £4,000 by signing the New Driver pledge.
The New Driver pledge is an initiative which aims to make the roads of Northern Ireland a safer place for everyone and includes the following 5 rules.
Respect the Speed Limit!
No Mobile While Mobile!
Never Drive When Tired!
Not a Drop, Not a Drag!
Belt Up, Front & Back!
Strathearn School invited New Driver Safety Ambassadors to the school to present to their Year 13 students on the importance of staying safe on the road. The talk covers all elements of safe motoring including learning to drive, buying a car, insurance, looking after your vehicle and staying safe on the road both as a passenger and a driver.
Mr Anderson, Vice Principal from Strathearn School, Belfast, commented, "We value the importance of our student's wellbeing and see New Driver NI as an integral part of helping our young sixth form students learn about the importance of driver safety."
Emma Duffy at New Driver Safety Ambassadors commented "The programme has been run for over seven years now and is growing each year.  Feedback from both schools, teachers and students is very positive and making the New Driver pledge is a commitment to being as safe as possible on the roads."
"Too many young people are still losing their lives or being seriously injured on the roads across Northern Ireland.  We want to see these figures reduce every year.  We have set an ambitious target to get 10,000 pledges this year and students have the chance to win over £4,000 in cash prizes by doing so!"
Maurece Hutchinson, Managing Director at JMK Solicitors said "We are delighted to support New Driver Safety Ambassadors again this year.  As a legal firm specialising in personal injury cases, many of which are a result of road traffic accidents, we feel there is a real importance to educating young people on the importance of safe motoring as they progress into driving for the first time. The advice and support that New Driver provides is excellent in nurturing their journey from getting started, right through to tips and advice for their vehicles, scenarios, and weather conditions."
The programme is completely free for schools as funding is provided by corporate sponsors including, CRASH Services, JMK Solicitors, Hankook Tyres, AB&C Insurance, DriveTech UK, The Department for Infrastructure, Applegreen Northern Ireland and support from eight of the local Policing and Community Safety Partnerships.
For more information and access to the New Driver NI magazine see www.newdriverni.com.