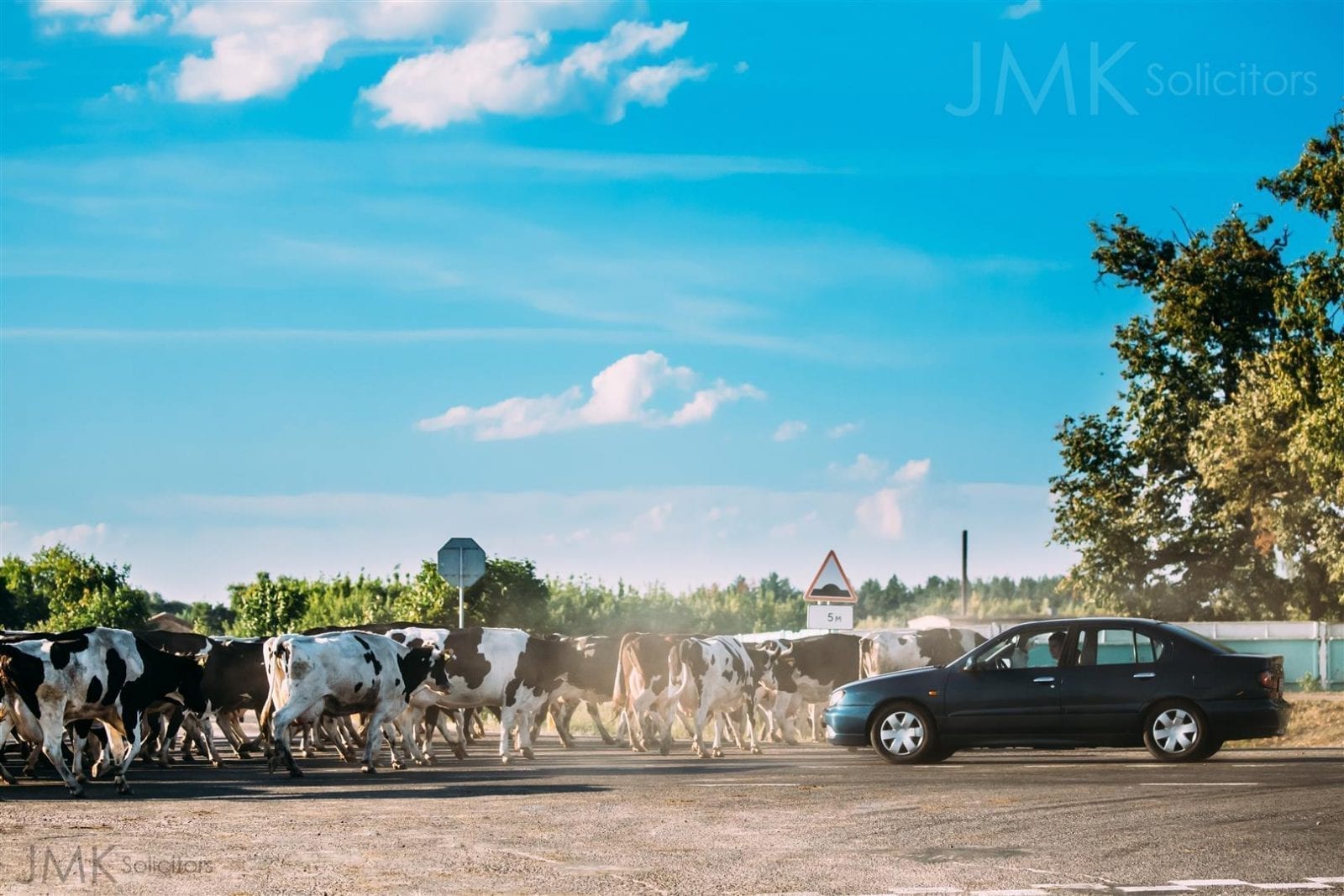 When the other party is on 4 legs instead of 4 wheels what should you do?
Every year we deal with numerous cases where a vehicle has been in an accident caused by animals such as cows, sheep and horses as well as by domestic pets like cats and dogs. This is often a misunderstood area and motorists are often unsure of their rights in such circumstances. To help you JMK Solicitors recommend the following should you ever be involved in a collision with an animal:-
1. Stop the vehicle when safe to do so and put on your hazard lights if necessary.
2. Note your exact locality and the point of impact on your vehicle.
3. Always act with caution when exiting the vehicle as injured animals can often be dangerous.
4. Immediately report the incident to the PSNI
5. Check if the animal has a tag. Domestic pets should have a collar which will contain the owner's contact details and farm animals will have a tag number which will identify the Registered Keeper.
6. Check the surrounding area for open gates or damaged hedging/fencing, this will potentially be important for proving liability against the owner of the animal.
7. Take photographs of the damage to your vehicle, and the location of your vehicle after the impact, the animal, including identifying marks, tags or collars and other evidence such as open gates/damaged fencing.
For incidents involving animals, there may well be insurance in place by the owner to cover liabilities to others and accordingly it is important to identify the owner of the relevant animal as soon as possible.
Article 7 of the Animals (NI) Order 1976 sets out that an animal owner does have a duty to take care to prevent damage from animals straying onto the public road however this is subject to proviso.  For example a breach of the duty is not established if the relevant animal is situated in an area in which the owner had a right to place it and in which fencing is not customary.
Accidents involving animals are rarely completely straightforward which is why you need expert assistance.
This article has been written to give general advice and every incident will have its own unique circumstances.
---
JMK Solicitors are Northern Ireland's Number 1 Personal Injury Specialists. With a team of over 100 people including a team of personal injury solicitors, we assist clients all over Northern Ireland. If you have suffered a personal injury, been in a road traffic accident, had an accident at work, or suffered a medical accident, contact our team for a free consultation.
Call us today on 028 9032 0222 or email us law@jmksolicitors.com
© Copyright JMK Solicitors [2022]. All rights reserved.