The number of potholes on our roads was in the news headlines again last week, with official figures estimating that there are over 100,000 across Northern Ireland. This has become a major safety issue for motorists and in a recent case in which JMK Solicitors acted, our client's vehicle was even written off due to the severity of the impact damage caused by a pothole.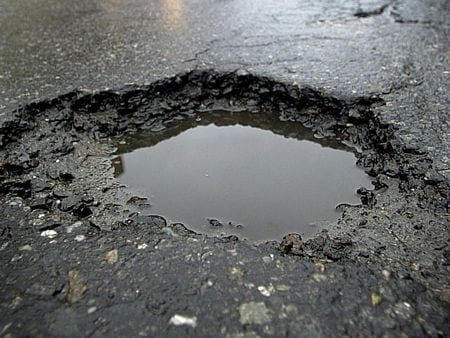 Sinead Toal, from JMK solicitors, who represented the client, said "There have been over 1,500 successful claims for damage to vehicles caused by potholes in Northern Ireland over the last three years. Thankfully the majority are relatively minor but my client's vehicle suffered significant damage, injuring both the driver and passenger.
Following the incident, the driver came to us for assistance as his vehicle was off the road. He needed the vehicle recovered from the scene and needed a vehicle to get around. And we were able to assist him as fully as possible."
Sinead continues "We acted quickly to gather the information to help his case, which is very important for claims of this type as unfortunately, the Department of Regional Development's representatives can often take a long time to investigate themselves but we were confident that our client was entitled to make a claim.
I am glad to say that we recovered all our clients' losses and he was delighted with the outcome. We even managed to recover the vehicle damage costs on behalf of his insurance company; ensuring that his no claims bonus was not affected.
Sinead says the case is an important lesson for others "Motorists should seek immediate advice if their vehicle is damaged by a pothole. Motorists should not be out of pocket through no fault of their own".
JMK Solicitors are able to offer their clients a legal expenses policy, to give them full protection for any costs should their claim be unsuccessful.
Sinead Toal is also a Senior Litigator Personal Injury Specialist accredited by the Association of Personal Injury Lawyers which is independent recognition of her standing in the field of personal injury claims.
Read our full guide on tips on what to do when your vehicle is damaged by a pothole.
JMK Solicitors are Northern Ireland's Number 1 Personal Injury Specialists. With a team of over 100 people including a team of personal injury specialists, we assist clients all over Northern Ireland. If you have suffered a personal injury, been in a road traffic accident, had an accident at work or suffered a medical accident, contact our team for a free consultation.
Call us today on 028 9032 0222 or email us law@jmksolicitors.com
© Copyright JMK Solicitors [2016]. All rights reserved.