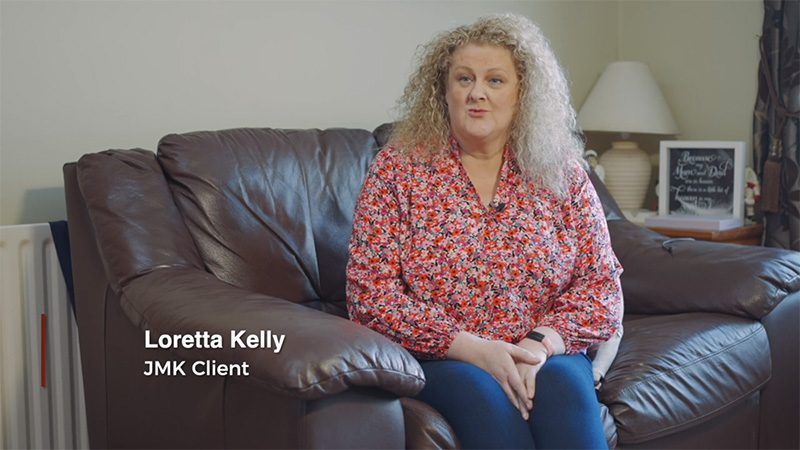 Hear from our satisfied client Loretta Kelly, who speaks of her experience using JMK Solicitors after being involved in a road traffic accident.
Video Transcript
"I was coming home from work one night at 10.30 pm when I was exiting the roundabout, a car came up the side road and tried to fit into the exit beside me. He didn't stop immediately, he travelled on before coming back saying 'sorry I didn't see you'.
The left side of my back and neck had muscle spasms from the impact. I went to the hospital the following day to get checked out. I couldn't work for eight weeks.
After the accident the other party admitted liability, but then two days later decided it wasn't their fault, thankfully JMK Solicitors sorted all that out for me.
I didn't have the hassle or the stress of trying to sort out 'how am I going to deal with this now', because that was their job, and they were very good at it.
When I first contacted JMK Solicitors they sent me out all the paperwork I needed for them to act on my behalf. All I had to do was post it back to them and I didn't have anything to do after that, they handled everything for me.
JMK Solicitors booked all hospital and doctor appointments that I needed. They got me a hire car within a day of the accident. They would give me a call every couple of weeks and let me know how my case was going.
If I had to ring the office the girls were all very friendly. No question was silly.
I was kept up to date with the JMK App as well as phone calls. The App was very easy to use, all I had to do was download the App and any appointments or documents were there. I could go on to my diary in the App and see what appointments I had coming up and how my case was progressing.
Sometimes you don't have access to your emails, whereas at least I knew that the JMK App was there, and everything was available in the one place. I didn't need to search for emails as they were all there on the App too.
Money for my car was processed swiftly and then my compensation was processed quickly too and there was no hassle.
Having used JMK Solicitors twice, I would highly recommend them, they are very professional in everything they do, and their service is excellent!"
Solicitor: Karl O'Hagan
---
JMK Solicitors are Northern Ireland's Number 1 Personal Injury Specialists. With a team of over 100 people including a team of personal injury solicitors, we assist clients all over Northern Ireland. If you have suffered a personal injury, been in a road traffic accident, had an accident at work or suffered a medical accident, contact our team for a free consultation.
Call us today on 028 9032 0222 or email us law@jmksolicitors.com